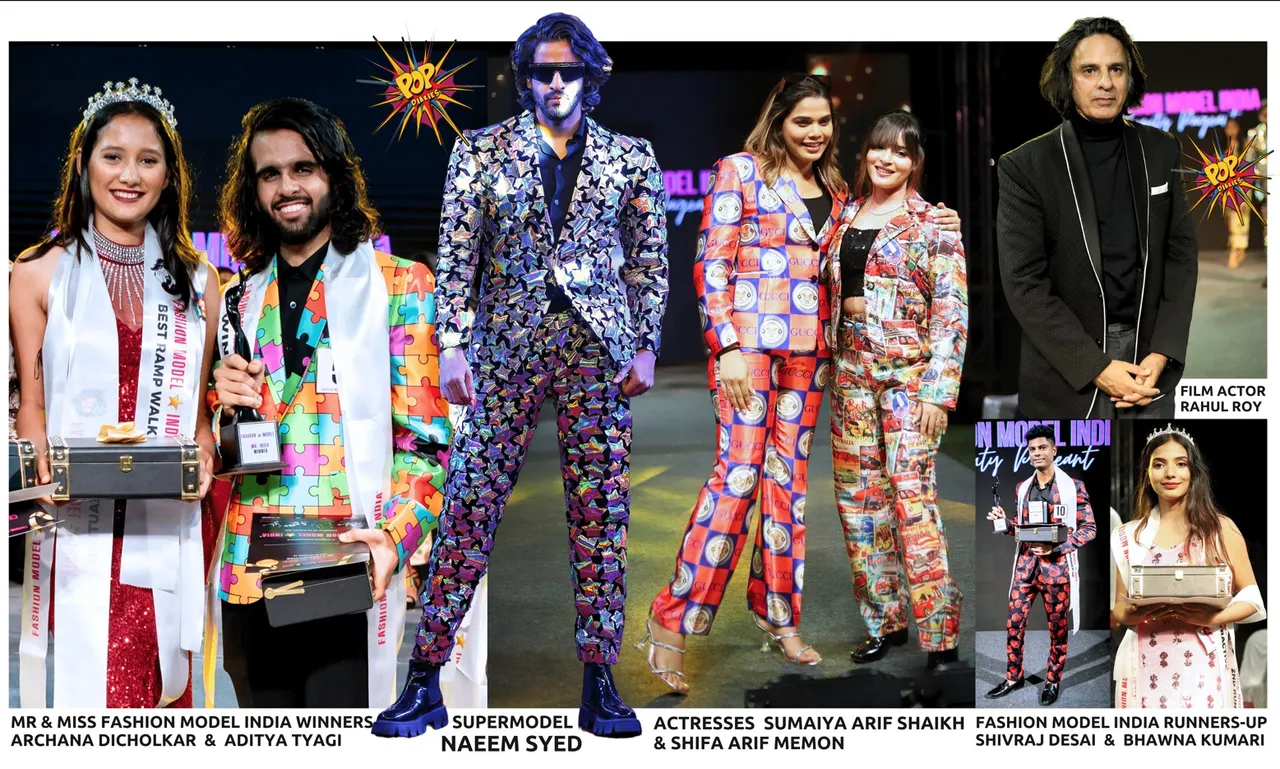 Following the success of the Superhit's earlier 4 Shows,
Supermodel & Fashion Model India's CEO Naeem Syed Directed the 5th Edition of their National Level Modeling Pageant Mr. & Miss. India 2022-2023 by Fashion Model India in Goa. 
Fashion Model India is Currently Goa's No.1 & Prime Modeling Company on The National Level. Running already on to its 6th Season preps to be hosted in 2024. 
 
The Modeling Company provides a Platform & an opportunity for India's aspiring models to Perform in front of Reputed Celebrity judges and rise to fame & become India's next fashion stars.
As Usual for Mr. & Miss. Fashion Model India Season 5
30 Contestants were selected this season,  
15 in male & 15 in female Category
, who went and took part from all over the country
After multiple tasks & talent round the top 10 Finalists were shortlisted for the Grand Finale Q & A Round from each category Subtitles were Awarded to the Top 10 finalists & The Show Winners Were Crowned.
Mr. India - Fashion Model 2022-2023 :
WINNER : Aditya Tyagi (Goa) 
Runner-Up : Shivraj Desai 
Miss. India Fashion Model 2022–2023 :
WINNER : Archana Dicholkar (Goa)
Runner Up – Bhawna Kumari 
Mr India (Popular)  Fashion Model 2022-2023
WINNER – Shashank Raju (Hyderabad)
the season 5 modelling contest featured & was Judged By The Indian Film Actor | Bollywood Superstar – Rahul Roy & 
Social Media Star | Influencer – Shifa Memon 
The Grand Finale was held at the show's official Venue Partner for Season 5 - Safira River Front Resort in Morjim. 
& The Day 1 Models Training for The Show held at its Season 5 Hospitality Partner - Rosetum Hotels Anjuna 
The Official Event Partner was V4U Events & Entertainment by Kiran Chandra,
the show was Supported by Mr Waseem Muzawar
& Amonkar Classic Catering Services Goa
also supported by Prathamesh Films Goa, Pawan Pathak, Creating Moments Goa
& The Gifting Partner: CRAM Goa
The show was Produced & Choreographed by Actor/Model & The Company's Managing Director | Co-Founder  Sumaiya Shaikh while the Grooming & Mentoring done by Ex Goan Supermodel Newton Dias 
The Model Ramp Training and Show Opening were handled by the previous season's Fashion model Successors 
FMI Season 4 Winner Gulnaaz Badami, Model Manager Jyotsna Satardekar, 
Season 3 Winner Daizy Behki, Season 2 Runner-up Tanveer Nagnuri & Rest FMI Models Team. 
The Event was Successfully Managed By Sanjay Roy & Co-ordinated by Ateek Shaikh. 
The celebrities were Managed By Arbaz Shaikh & Models by Abrar Syed and + Rest FMi Team. 
The Beauty Pageant Highlighted The Launch Showcase of Sumaiya Shaikh's Fashion Luxury Designer Wear Brand Rifs. 
The Fashion Designer Partner was B-Stylish a Women's wear Brand by Ashish & Samidha Hirani. 
Whereas Male Models were Styled & Wearing Naeem Syed's Wardrobe. 
Make up artists were Halima Khan, Akansha & Priti
Official Photographers were Prashant Malviya, Naveen Chari & Siddesh Shetye. The local media partner was InGOA 24x7
while the Official Emcee was Merlyn D'silva. 
the show also featured a Special Rap Performance By Rapper Wajaxx. 
Later A Success Party Was Hosted at SpeakEasy Pub by Rosetum Anjuna to celebrate the success of Fashion Model India's Completion of 5-star Studded Seasons