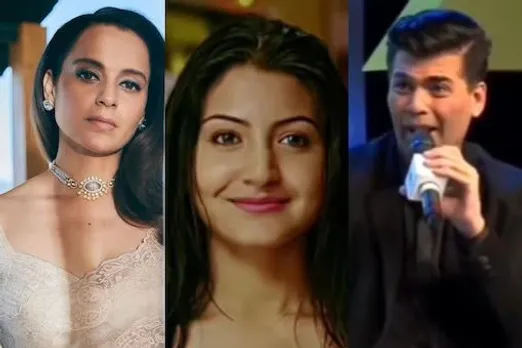 Bollywood actress Kangana Ranaut responded to Karan Johar's now-viral old video in which he claims that after first seeing Anushka Sharma's portrait, he "intended to destroy" her career.
In the old video that is currently going viral, Karan Johar discusses his attempt to "destroy" Anushka Sharma's career. He can be heard in the video admitting that, prior to her Bollywood debut, Rab Ne Bana Di Jodi, he "intended to destroy" her career. While being stated in fun, the remarks have re-ignited the social media conversation around nepotism.
On Thursday, Kangana uploaded the trending video on her Instagram account and subtly made fun of Karan. "Ek kaam hai, Ye Chacha Chaudhary ko bas," "In Hindi, Kangana wrote.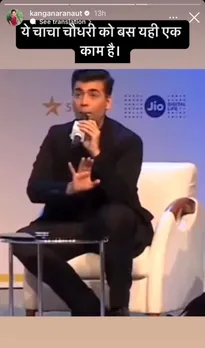 The footage, meanwhile, dates from the 18th MAMI Mumbai Film Festival in 2016, which has since leaked. Anushka Sharma and Karan Johar visited the festival to promote their movie, "Ae Dil Hai Mushkil." KJo can be heard stating, "I fully wanted to butcher Anushka Sharma's career because when Aditya Chopra gave me her image, I was like "no no, you don't need to sign Anushka Sharma," to Rajeev Masand and Anupama Chopra. I wanted Adi to work with another major actor."
This comes after Kangana Ranaut recently made an unbelievable accusation against Karan Johar. Because of her "relationship" with Shah Rukh Khan, the actress claimed that Karan Johar "barred" Priyanka Chopra from the Bollywood industry. In a series of tweets, Kangana claimed that Priyanka Chopra was "harassed" by Karan to the extent that "she had to leave India."