The Baeksang Arts Awards ceremony is one of the most prestigious awards ceremonies in South Korea. This annual awards ceremony honors excellence in film, television, and theater through a rigorous judging process by a panel of 60 professional evaluators, industry judges, and professionals representing television, film, and theater through a stringent screening process.
And finally, One of the most prestigious awards in South Korea, the Baeksang Awards Awards, has revealed its nominees for this year. The nominees were selected from television dramas, shows, and movies that aired or were released in theaters between April 1, 2022, and March 31, 2023.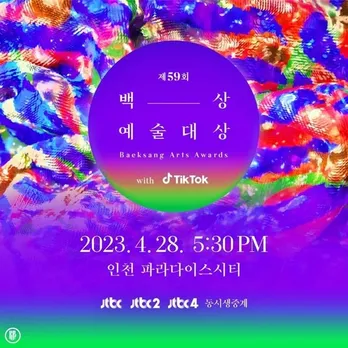 This year, in the television section, the Best Screenplay category is dominated by women. Ilgan Sports and JTBC Plus will host the 59th Baeksang Arts Awards ceremony this year. The ceremony will be held on April 28, 2023, at Incheon Paradise City, Incheon, starting at 17:30 KST. The highly anticipated prestigious awards ceremony will be broadcast live in South Korea by JTBC on JTBC, JTBC2, and JTBC4, and internationally by TikTok.
See The Complete List of 59th Baeksang Arts Awards 2023 Nominees:
UNDER FILMS CATEGORY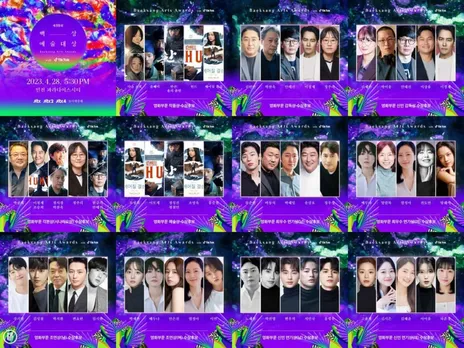 Best Film
▪︎Next Sohee
▪︎The Night Owl
▪︎Hansan: Rising Dragon
▪︎Hunt
▪︎Decision to Leave
Best Director
▪︎Kim Han-min – Hansan: Rising Dragon
▪︎Park Chan-wook – Decision to Leave
▪︎Ahn Tae-jin – The Night Owl
▪︎Lee Jung-jae – Hunt
▪︎Jung Ju-ri – Next Sohee
Best New Director
▪︎Kim Se-in – The Apartment with Two Women
▪︎Park Yi-woong – The Girl on a Bulldozer
▪︎Ahn Tae-jin – The Night Owl
▪︎Lee Sang-yong – The Roundup
▪︎Lee Jung-jae – Hunt
Best Screenplay
▪︎Park Gyu-tae – 6/45
▪︎Lee Jung-jae, Jo Seung-hee – Hunt
▪︎Park Chan-wook, Jeong Seo-kyeong – Decision to Leave
▪︎Jung Ju-ri – Next Sohee
▪︎Ahn Tae-jin, Hyun Kyu-ri – The Night Owl
Technical Award
▪︎Ryu Seong-hee – Decision to Leave
▪︎Lee Mo-gae – Hunt
▪︎Jeong Seong-jin, Jeong Chul-min – Hansan: Rising Dragon
▪︎Cho Young-wook – Decision to Leave
▪︎Hong Seung-cheol – The Night Owl
Best Actor
▪︎Ryu Jun-yeol – The Night Owl (role: Cheon Kyung-soo)
▪︎Ma Dong-seok – The Roundup (role: Ma Seok-do)
▪︎Park Hae-il – Decision to Leave (role: Hae-joon)
▪︎Song Kang-ho – Broker (role: Sang-hyun)
▪︎Jung Woo-sung – Hunt (role: Kim Jung-do)
Best Actress
▪︎Bae Doona – Next Sohee (role: Yoo-jin)
▪︎Yang Mal-bok – The Apartment with Two Women (role: Su-gyeong)
▪︎Yum Jung-ah – Life Is Beautiful (role: Oh Se-yeon)
▪︎Jeon Do-yeon – Kill Boksoon (role: Gil Bok-soon)
▪︎Tang Wei – Decision to Leave (role: Song Seo-rae)
Best Supporting Actor
▪︎Kang Ki-young – The Point Men (role: Qasim / Lee Bong-han)
▪︎Kim Sung-cheol – The Night Owl (as Crown Prince Sohyeon)
▪︎Park Ji-hwan – The Roundup (role: Jang I-soo)
▪︎Byun Yo-han – Hansan: Rising Dragon (role: Wakisaka)
▪︎Im Si-wan – Emergency Declaration (role: Jin-seok)
Best Supporting Actress
▪︎Park Se-wan – 6/45 (role: Yeon-hee)
▪︎Bae Doona – Next Sohee (role: Yoo-jin)
▪︎Ahn Eun-jin – The Night Owl (role: Jo So-yong)
▪︎Yum Jung-ah – Alienoid (role: Heug-seol)
▪︎Lee Yeon – Kill Boksoon (role: Kim Yeong-ji)
Best New Actor
▪︎No Jae-won – Missing Yoon (role: Jung Joon-ok)
▪︎Park Jin-young – Christmas Carol (role: Joo Wol-woo / Joo Il-woo)
▪︎Byeon Woo-seok – 20th Century Girl (role: Poong Woon-ho)
▪︎Seo In-guk – Project Wolf Hunting (role: Park Jong-doo)
▪︎Ong Seong-wu – Life Is Beautiful (role: Jeong-woo)
Best New Actress
▪︎Go Youn-jung – Hunt (role: Jo Yoo-jeong)
▪︎Kim Si-eun – Next Sohee (role: So-hee)
▪︎Kim Hye-yoon – The Girl on a Bulldozer (role: Goo Hye-young)
▪︎IU – Broker (role: Moon So-young)
▪︎Ha Yoon-kyung – Gyeong-ah's Daughter (role: Yeon-su)
UNDER TELEVISION CATEGORY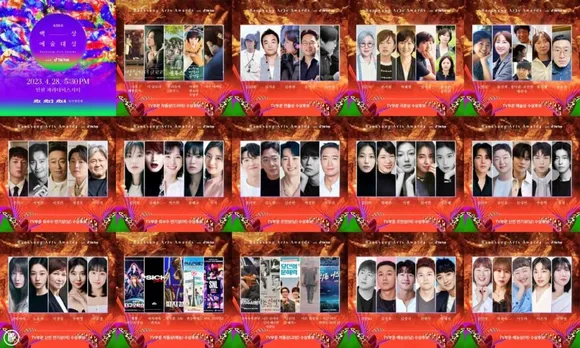 Best Drama
▪︎My Liberation Notes (JTBC)
▪︎The Glory (Netflix)
▪︎Our Blues (tvN)
▪︎Extraordinary Attorney Woo (ENA)
▪︎Little Women (tvN)
Best Director
▪︎Kim Kyu-tae – Our Blues
▪︎Kim Seok-yoon – My Liberation Notes
▪︎Kim Hee-won – Little Women
▪︎Yoo In-sik – Extraordinary Attorney Woo
▪︎Lee Joo-young – Anna
Best Screenplay
▪︎Kim Eun-sook – The Glory
▪︎Moon Ji-won – Extraordinary Attorney Woo
▪︎Park Hae-young – My Liberation Notes
▪︎Jeong Seo-kyung – Little Women
▪︎Hong Jung-eun, Hong Mi-ran – Alchemy of Souls
Technical Award
▪︎Noh Young-sim (Music) – Extraordinary Attorney Woo
▪︎Ryu Seong-hee (Art direction) – Little Women
▪︎Song Nak-hoon, Jo Jin-hyeon, Hwang In-woo (Shooting) – Inkigayo
▪︎Hwang Jin-hye (Visual Effects) – Extraordinary Attorney Woo
▪︎Jang Jong-kyung (Shooting) – The Glory
Best Actor
▪︎Son Suk-ku – My Liberation Notes (role: Gu Ja-gyeong)
▪︎Lee Byung-hun – Our Blues (role: Lee Dong-seok)
▪︎Lee Sung-min – Reborn Rich (role: Jin Yang-chul)
▪︎Jung Kyung-ho – Crash Course in Romance (role: Choi Chi-yeol)
▪︎Choi Min-sik – Big Bet (role: Cha Mu-sik)
Best Actress
▪︎Kim Ji-won – My Liberation Notes (role: Yeom Mi-jeong)
▪︎Kim Hye-soo – Under the Queen's Umbrella (role: Queen Im Hwa-ryeong)
▪︎Park Eun-bin – Extraordinary Attorney Woo (role: Woo Young-woo)
▪︎Song Hye-kyo – The Glory (role: Moon Dong-eun)
▪︎Bae Suzy – Anna (role: Lee Yumi / Lee Anna)
Best Supporting Actor
▪︎Kang Ki-young – Extraordinary Attorney Woo (role: Jung Myung-seok)
▪︎Kim Do-hyun – Reborn Rich (role: Choi Chang-je)
▪︎Kim Jun-han – Anna (role: Choi Ji-hoon)
▪︎Park Sung-hoon – The Glory (role: Jeon Jae-joon)
▪︎Jo Woo-jin – Narco-Saints (role: Byeon Ki-tae)
Best Supporting Actress
▪︎Kim Shin-rok – Reborn Rich (role: Jin Hwa-young)
▪︎Yeom Hye-ran – The Glory (role: Kang Hyeon-nam)
▪︎Lee El – My Liberation Notes (role: Yeom Ki-jeong)
▪︎Lim Ji-yeon – The Glory (role: Park Yeon-jin)
▪︎Jung Eun-chae – Anna (role: Lee Hyeon-ju)
Best Rookie Actor
▪︎Kim Gun-woo – The Glory (role: Son Myeong-oh)
▪︎Kim Min-ho – New Recruit (role: Park Min-seok)
▪︎Moon Sang-min – Under the Queen's Umbrella (role: Grand Prince Seongnam / Yi Kang)
▪︎Joo Jong-hyuk – Extraordinary Attorney Woo (role: Kwon Min-woo)
▪︎Hong Kyung – Weak Hero Class 1 (role: Oh Beom-seok)
Best Rookie Actress
▪︎Kim Hieora – The Glory (role: Lee Sa-ra)
▪︎Roh Yoon-seo – Crash Course in Romance (role: Nam Hae-yi)
▪︎Lee Kyung-seong – My Liberation Notes (role: Kwak Hye-suk)
▪︎Joo Hyun-young – Extraordinary Attorney Woo (role: Dong Geu-ra-mi)
▪︎Ha Yoon-kyung – Extraordinary Attorney Woo (role: Choi Su-yeon)
Best Entertainment Program
▪︎Earth Arcade (tvN)
▪︎Psick Show Season 3
▪︎Physical: 100 (Netflix)
▪︎EXchange Season 2 (TVING)
▪︎SNL Korea 3 (Coupang Play)
Best Educational Program
▪︎National Investigation Headquarters (Wavve)
▪︎In the Name of God: A Holy Betrayal (Netflix)
▪︎Your Literacy+ (EBS)
▪︎Adult Kim Jang-ha (MBC)
▪︎Hidden Earth Korean Peninsula 3 Billion Years (KBS) 
Best Male Variety Performer
▪︎Kian84
▪︎Kim Kyung-wook
▪︎Kim Jong-kook
▪︎Jun Hyun-moo
▪︎Hwang Je-sung
Best Female Variety Performer
▪︎Kim Min-kyung
▪︎Park Se-mi
▪︎Lee Soo-ji
▪︎Lee Eun-ji
▪︎Joo Hyun-young