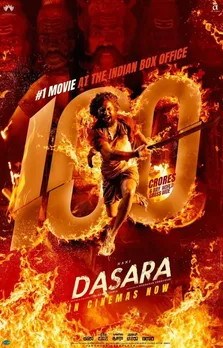 The recently released movie Dasara, starring Natural Star Nani, has taken the box office by storm. In just six days since its release, Dasara has entered the coveted 100-crore club, grossing over Rs 100 Cr worldwide. This is Nani's first movie to achieve this milestone.
The movie has not only made its mark in the domestic market but also in overseas markets, especially in the USA, where it is close to reaching $2 million. Dasara has also proven to be tough competition for many Bollywood films released recently.
Nani took to Twitter to express his gratitude towards the audience, saying, "Our effort. Your gift:  CinemWins! ♥ #Dasara". The film's success function held in Karimnagar was a grand affair, with the director receiving a BMW car and each team member being gifted with 10-gram gold coins.
Dasara's mass action and entertainment factor have struck a chord with audiences, making it a must-watch movie. Despite opening on a slow note in other languages, the movie is now picking up slowly with positive talk. Overall, Dasara has proved to be a massive hit, showcasing the power of great storytelling, skilled direction, and talented actors. The movie, directed by Srikanth Odela and produced by Sudhakar Cherukuri under the SLV Cinemas banner, has become a blockbuster hit all over the nation.