Smriti Irani is a well known name in herself. No prior introduction is required as soon as her name is taken. Starting her career from modelling to becoming a popular bahu 'Tulsi' she has earned the respect and fame which everyone desire. And here is she the great example who conquered this.
Recently, former actor and presently politician Smriti Irani had a full-fledged interview with anchor Neelesh Misra on The Slow Interview. Where she talked about various situtaions happened in her life and how she tackled them. How she learnt a lesson about 'humanity', and how people she met in her life taught her the important lessons of life.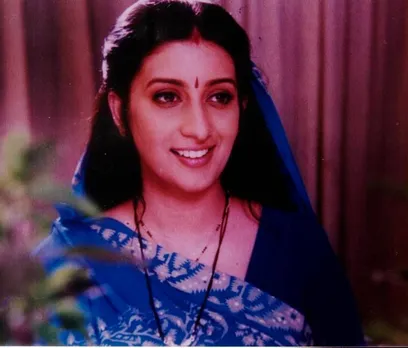 During the interview she revealed about many big secrets which were really shocking and eye-opening to know. Some were the reasons and some were the secrets revealing another secrets. So here we have collectively brought the five revelations made by Smriti Irani:
# Smriti Irani recalls making Rs. 1800 per day
In the interview she recalled the time when she used to take an auto to get to the sets of KSBKBT, as she was not making enough money to own a car. She revealed that even her makeup man was embarrassed for her, since his "Tulsi Bhabhi" had to take an auto while he came to work in a car.
She also spoke about her salary and the odd rules producer Shobha Kapoor had imposed on the sets. "First year of KSBKBT, I was getting Rs. 1800 bucks and I had no car. When I got married, me and Zubin had Rs. 30,000." She continued, "Mujhe yaad hai, mera make-up man kehta tha, gaadi toh lelo mujhe sharam aata hai mai gaadi pe aata hu."
Talking about the rules on set by Shobha, Smriti said, "There was one rule: 'chai koi nahi piyega aur khana koi nahi khayega'." She explained that this restriction was put in place to prevent damage to the sets' furniture. Although actors could have tea, technicians were not permitted to do so and hence she would leave the sets to have tea with some of her technician friends.
# When Ekta Kapoor promised to make her a star
Smriti Irani became a household name for playing Tulsi Virani on the hit TV serial Kyunki Saas Bhi Kabhi Bahu Thi, but her hiring process was rather unusual.
She first went to Jeetendra's house for an audition, and as soon as she walked in, Ekta Kapoor looked at her from head to toe. They had called her in to audition for a role in Hum Paanch as Balaji Telefilms was looking to replace Rakhi Vijan's Sweety, because "they had some differences with her." For Smriti, "that role never made sense," and she said she "can't do it." Instead she landed a supporting role in Ghar Ek Mandir, which starred Gautami Kapoor and Ram Kapoor. For this, she was supposed to get paid Rs. 1800 per day, and that was a lucrative sum for her. But instead of signing the contract for Ghar Ek Mandir, Ekta presented her with a contract for Kyunki Saas Bhi Kabhi Bahu Thi, and did not even audition her for the role.
"I remember she tore up that contract and presented a new one. I was concerned if I was still getting paid the same amount. That Rs. 1800 was important. Ekta said, 'You know what I am making?' and I said, 'I don't even know who you are'. She said, 'I am Ekta Kapoor' and I said, 'Achi baat hai'. My sole focus was that Rs. 1800 should not change. And I signed it. Ekta said she will make me a 'star', and I was thinking 'pata nahi kaun hai'."
Years later, Smriti learnt that she landed the role because Ekta Kapoor's pandit had seen her and was confident that she would make it. "Later, I learned that there was a pandit named Janardhan in Ekta's office. Apparently, he is a face reader, and he said, whosoever this girl is, stop her. Apparently, I was supposed to make history. Ekta believes a lot in him, so that's how I got Kyunki."
After getting selected; Smriti gave a screen test which was horrible. When the executive told Ekta that hiring Smriti would be a mistake, "Ekta said, 'I don't care. Janardhan has said she will be a big name'."  Even they started shooting for the show, the director was not impressed with Smriti's acting and summoned Ekta to set on the second day of the shoot. "The director called Ekta and said you are making a big mistake, fire her. Ekta drove down, she said 'What are you doing? I have you'. I said this whole thing is fake, if you want this character to resonate, then make her language relatable. I asked 'can you let me do it my way?' and she said yes." And the rest is actually the history.
# Smriti Irani: started a revolution against corrupt caterer when found cockroaches in food
Answering the questions; Smriti Irani opened up about how she started a revolution on set after being told that the crew was being given rotten food. After her revolt, the actor said that in addition to allowing technicians to take tea breaks, they were also served the same food as the actors.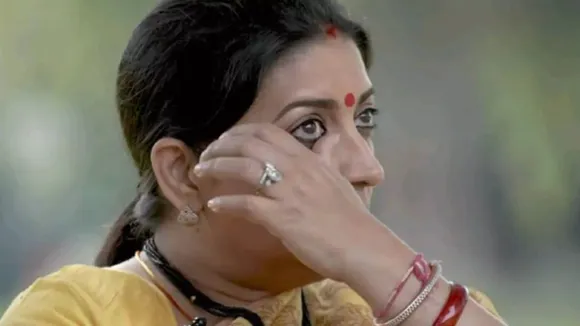 "One day, producer Shobha Kapoor came and asked, 'Why is Smriti sitting outside and drinking tea?' Smriti insisted that everyone, even the technicians, take tea breaks together, and Shobha finally agreed. Earlier, rules forbid technicians from taking tea breaks, although actors were allowed to do so.
She recalled that one day, she was speaking to a technician and asked if they could share a meal. However, the technician stopped her and advised her not to eat his food because the rice contained soda. Smriti said that's he was pregnant at the time, and to consume soda would've been unadvisable. Smriti, who was touched by the technician's gesture, decided to delve into the matter and she discovered bigger problems. One day, she spotted cockroaches in the food.
Seeing this; She decided to take up the matter, but the technician tried to stop her because the caterer was influential in the industry. Smriti said that since she was now the 'Tulsi' of the show, and was aware of her power. So, she had to take action. "Maine kaha zyada mat karo, baitho. Lights off. Jo star ka caterer hai, wohi technician ka hoga. Maine kaha agar yaha lights off hua hai, toh main pure unit mai karwa dungi."
She demanded that better food be provided for the crew, and implied that she would stop coming to work if her demands were not met.
# When Balaji called her to work hours after miscarriage, recalls showing proof to Ekta Kapoor
In the interview she told the interviewer that, she was told to return to work just after a day, she had a miscarriage. She said that her co-actor even told the show's producer, Ekta Kapoor that she was lying about the miscarriage. At the same time, Smriti was shooting for the TV series Ramayan, and its director Ravi Chopra asked her to rest and not come to work.
She narrated; "I was not aware that I am pregnant. I was on the set of Kyunki Saas Bhi Kabhi Bahu Thi, and I told them I am not well enough to shoot and asked to be allowed to go home. But still, I worked and by the time they let me go, it was evening already. The doctor suggested that I should go for a sonography. On my way, I started bleeding, and I remember it was raining. I stopped an auto and asked the driver to take me to the hospital. I reached the hospital, a nurse came running to ask for an autograph, while I was bleeding. I gave her the autograph, and asked her, 'Admit karloge, I think I am miscarrying.' "
Later in the day, Smriti got a call from the production team of 'KSBKBT', and was asked to come to work the next day. "I said, 'I told you I am not well, I just had a miscarriage', the person replied, 'Koi nahi, 2 baje ki shift mein aa jayie'." At that time Smriti was working double shifts. In the first half of the day, she would shoot for Ravi Chopra's Ramayan, and in the second half, for KSBKBT.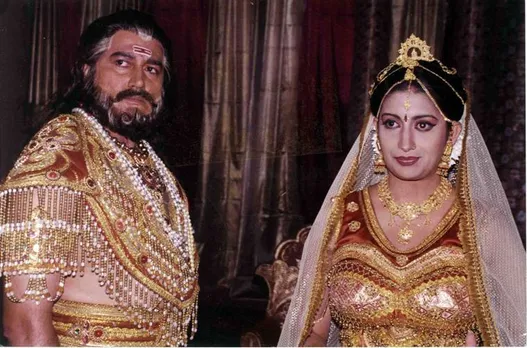 Smriti also informed Ravi Chopra about the situation, and he strictly told her to rest. "I requested him if I can come at 8 am for the 7 am shift. I will have to go home once after getting discharged from the hospital. He told me, 'Tumhara dimaag kharab hai? Do you know how it feels to lose a child, you have just gone through that. Kal aane ki zaroorat nahi . I pushed and said, 'Ravi ji Sunday ka episode hai, Sita replace nahi ho sakti… He said, 'Main kar lunga."
The actor also informed Chopra that she would be working in the afternoon for Ekta Kapoor's show too. She shared, "I told him I am going there at 2 pm else I will get fired. He told me, I don't know about them, don't bother to come to my set. If you have to go there at 2, use my shift to sleep."
Next day, when she reached the set of Ekta's show, she found out that a co-actor had filled the producer's ears with gossip about her miscarriage not being real. "The person didn't realise that I have returned because I needed money to pay EMIs for my house. The next day, I took all my medical papers to Ekta to tell her it is not a drama. She got uncomfortable and told me not to show the papers. I told her, 'Foetus bacha nahi, warna woh bhi dikha deti'."
She quit the show in 2007 after a rumour fallout with Ekta Kapoor, but they later appeared to patch up.
# Emotional Smriti Irani wishes Sushant Singh Rajput talked to her before he died, recalls concerning phone call with Amit Sadh immediately after SSR's death.
Smriti Irani was deeply affected when she heard about the death of actor Sushant Singh Rajput. The former actress cried inconsolably as she remembered SSR in a recent interview. She also shared that after hearing about Sushant's death, she immediately called actor Amit Sadh, whom she feared might also do something 'stupid'. "The day Sushant died, I was on a VC (Video Conference). There were many people. But I just couldn't… I said stop it. It felt like, why did he not call me? He should have called once. I had told that boy, 'Tum yaar maarna mat apne aap ko."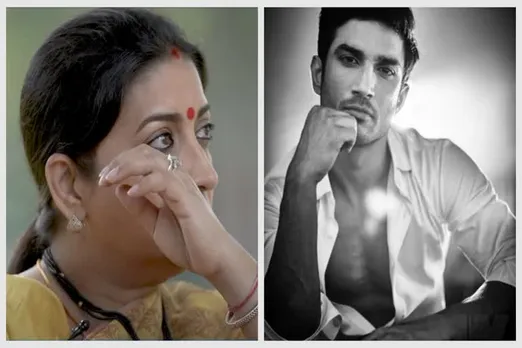 Smriti shared that she knew Sushant as she had seen him working on the sets adjacent to hers in Mumbai. She had also invited him for a masterclass on the IFFI stage with Shekhar Kapur when she was the I&B minister.
She also knew actor Amit Sadh, who shared screen with Sushant in the 2013 film Kai Po Che.  "Instantly, I was scared for Amit Sadh. I called him and asked him what he is up to. I knew, kuch gadbad karega bachcha. Usne mujhe kaha, mujhe nahi rehna, kya kiya iss idiot ne, I got the sense that something is wrong. Publicist Rohini Iyer told me, 'I am very scared, somebody just find him'," shared Smriti.
She then called Amit and talked to him. "He asked me, 'You don't have work?' I said, 'I do, but just let's talk', and we talk for six hours."