Live Nation announced the FAIR Ticketing initiative during the company's earnings call in February as it looked to expand the conversation about fixing the ticketing marketplace beyond its Ticketmaster subsidiary, which has attracted the scorn and scrutiny of fans and legislators for years.
With the push, Live Nation called for Congress to outlaw speculative ticketing where scalpers try to sell tickets they don't actually own yet, increase enforcement of the previously-passed BOTS Act to stop resellers from using bots to get tickets, protect artists' ability to decide whether their tickets can be re-sold on the secondary market, and mandate that all ticketing companies employ all-in ticket pricing to avoid hiding fees until the end of a purchase.
A group of over 20 of the most powerful companies in the live music business announced their support of Live Nation Entertainment's FAIR Ticketing reforms on Wednesday, calling for lawmakers to pass ticketing legislation that could give more power to artists regarding their ticket sales while limiting practices on the resale market.
Creative Artist Agency, William Morris Endeavor, United Talent Agency and Wasserman Media Group, the industry's largest booking agencies who between them handle live music appearances for most of the world's biggest superstars, are among the companies now co-signing Live Nation's call. Universal Music Group, the world's largest music company, also announced its support. The full list of supporting companies can be found on the FAIR Ticketing reforms website.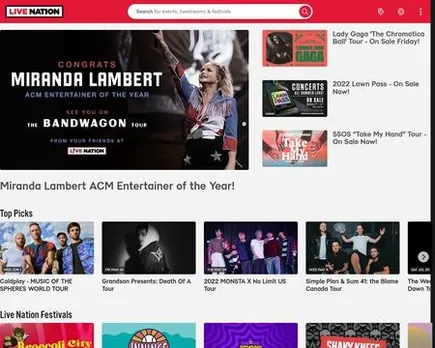 "There is no doubt that change is needed in the current ticketing ecosystem to protect our clients and their work," Lucy Dickins, WME's global head of contemporary music, said in a statement. "The FAIR Ticketing reforms would provide the necessary tools to empower artists and creators who know their fans best while putting an end to deceptive ticketing practices."
Several of the most prominent artist management companies were listed as well. Crush Music, Full Stop management, company of industry titan Irving Azoff, also signed for support. "Scalpers, have no skin in the game, have invested nothing, risk nothing, created nothing, yet they reap the lion's share of the profit," Azoff said at the panel.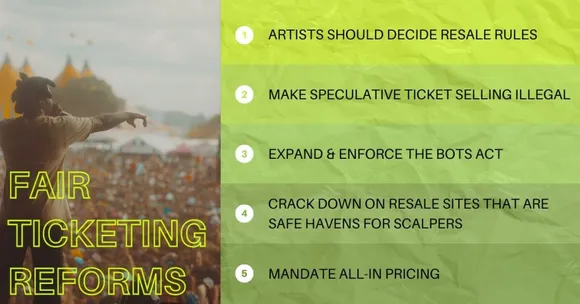 Many of the points brought forward in the Fair Ticketing program could address some of the long-held issues industry insiders have said need to be addressed, but the program doesn't mention other fan frustrations like high fees and dynamic prices. StubHub, one of the largest resale platforms in the world, criticized Live Nation's proposal as a misdirection.
"In the wake of bipartisan calls to investigate anticompetitive and anti-consumer practices by LNE, LNE's solution is to point fingers and call for policies that strengthen their own control over the industry and consumers," StubHub stated.
(StubHub continues to join consumer advocates in calling for comprehensive policy solutions, like the BOSS ACT, that empower fans, increase transparency across the entire marketplace, and ensure competition.)