AI-powered applications are the new normal. It has embarked on its sensational breakthrough by revolutionalising all facets of life and work.
Users usually tend to give up using the app after a few days or sometime. So the immense focus stays on delivering good speed, innovation and digitalization while adaptating to the modern demand and supply term.
Hence every touch is a possible meaningful digital interaction and the revolution of the best AI apps makes it a reality.
So in this blog, we bring you the collection of best AI apps of 2023 useful for daily works.
1. SIRI
So first comes first appeared is Apple's Siri. This is one of the best and most powerful AI apps. Powered as a personal assistant restricted upon IOS app development platforms.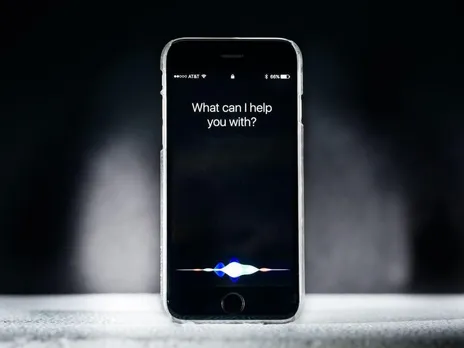 As a part of Apple's IPhone series, Siri is the voice AI assistant that is built into nearly every device. The best one among voice systems with the capability to interact swiftly with a human user.
● Has a universal call "Hey Siri"!
● Voice data is end-to-end encrypted.
● Answer queries and gives user suggestions and controls iOS integrated devices.
● Can speak and understand 20 languages.
● Available in over 30 countries.
● Mimic the exact natural speech because of which it is the most standard everyday use AI apps.
● Keep your life private and secure while controlling aspects of it.
2. AMAZON  ALEXA
Commonly known as Alexa, this AI assistant app has made lives easier for many users. All it needs is just a suitable internet connection to begin delivering meaningful responses. The app works on the best  AI technology that connects you to multiple devices and works upon your command.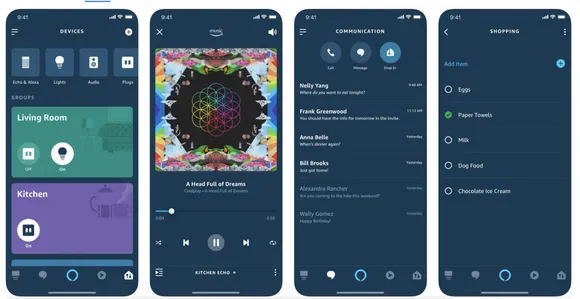 It has a feature of smart home that connects your smart lights, cameras, TVs and thermostats and making several things happen with just a single request.
It allows you to connect with multiple people at once, hands-free.
Alexa makes it easier for you to add your groceries to the cart and notify you of their nutritional values.
From opening up the camera for snapping a selfie to displaying your selection of slideshow, it does it all.
For gamers it also has a compilation of over 5,000 exciting games to play.
Alexa's multi-room music allows you to play music of your choice via apps such as: Amazon Music, Spotify, SiriusXM, Pandora, even Apple Music and others.
3. CORTANA
Cortana is a digital AI assistant for Microsoft, integrated to use the Bing search engine for its processes. This AI powered technology works on voice commands to help users accomplish their tasks.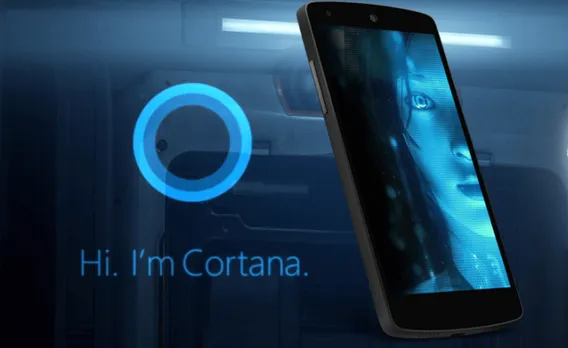 It uses natural language that helps users get their variety of tasks done.
Its cool features include opening up a dictionary and find facts, definitions and info from the encyclopedia upon your command.
Using the wake phrase, you can activate Cortana and manage to join a meeting, keep your schedule up-to-date and much more.
Tracks your patterns and optimizes them according to user centric behaviour.
Manages lists, creates notes, set reminders, reads your texts and a lot other things.
Its best feature is the chat based UI allowing you to get answers to your typed or spoken commands.
4. eBAY
The best example of a leading mobile app development that is AI-powered, is eBAY. This is a tangible gateway to the e-commerce world of buying and selling goods. This one of the oldest selling site has everything from trading cars to shopping for upgrading your closet.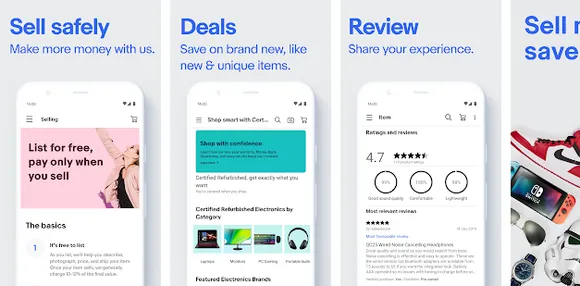 Has best feature to optimize the shopper's experience by finding similar items. Simply snap a photo of the item you like and search right away for the product.
Provides more opportunities to sellers, to display their products by cropping images, semi-automating product placement along with other features.
One more thing, you can make your own wishlist to keep things noted, with a choice to make it public or private.
Share your listings on social media or send them to a friend and filter out irrelevant information such as: price range, buying format, number of bids and the currency of sale, etc.
5. GOOGLE ASSISTANT
Google Assistant is your cross-platform app that can control your phone and align your tasks with voice recognition. Empowers natural conversation to boost rich consumer-facing assistance by recognising your voice differences and tailor responses accordingly.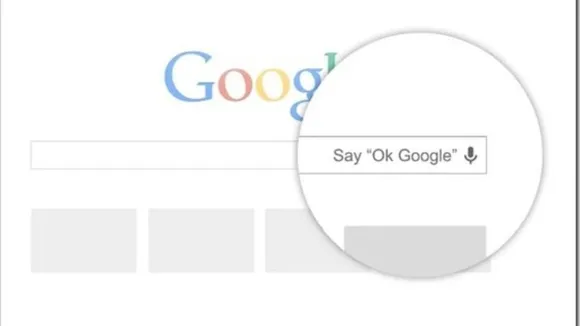 Gets activated with the phrase "OK Google"
Controls your devices and operates a smart home.
Restaurant reservations to directions, weather and news finds, it connects you to everything online.
Plays the music to you, read your notifications for you, send messages, run timers and reminders, play content on your Chromecast or other compatible devices, just as you want.
6. REPLIKA
Replika is one of the best AI apps providing AI assistance as your bot companion. This app basically uses a digital chatbot to socialize with users mimicking all human-centric behaviours.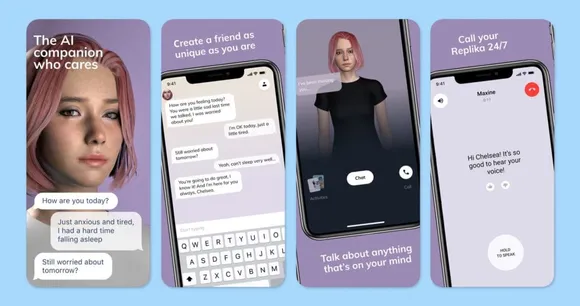 It provides you with your personalized Artificial Intelligence friend that is available to talk to you 24/7.
It can make conversations on everything from movies, travel and art, like anything.
From a friend, a partner, or a mentor, it makes you experience diverse relationships.
Replika pro will introduce you to video calls, voice calls, AR feature, coaching tabs and much more.
7. FACE APP
Face App creates photorealistic portraits from selfies with just a click. It offers worthy edits for social media platforms like Instagram to create your new and inclusive look for free.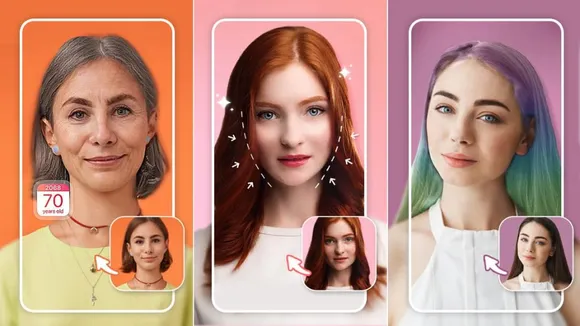 It offers a range of fun  edits and cool filters.
It lets you see yourself with drastic changes by effects that makes you look older and younger.
Add hairstyles of your choices, changes background and make customize facial features for you.
It changes your gender and removes wrinkles, acne/blemishes and much more.
8. SWIFTKEY KEYBOARD
This one is the best AI apps. It predicts, comprehend and suggest words while you type. It helps you write faster, better and quicker. Works by becoming familiar with your typing style.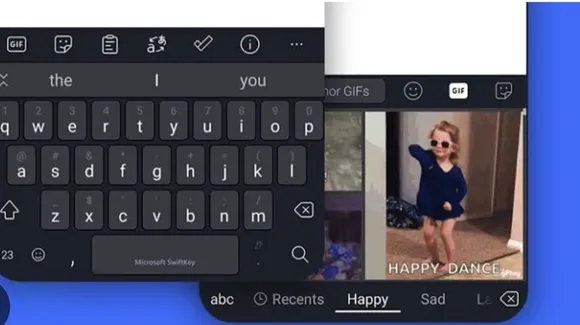 It helps to personalize your experience by typing, sending emojis, stickers and more.
Matches your unique way of typing with diverse language support.
Predicts and suggests words by analysing what you use often.
Provides you an integrated clipboard and gesture based keyboard for convenience.
9. SIFTR MAGIC
A magic cleaner app that promises to clean junk from your phone. Built for those with an excessive amount of data in their phone. Uses AI to scan the phone to free up memory space.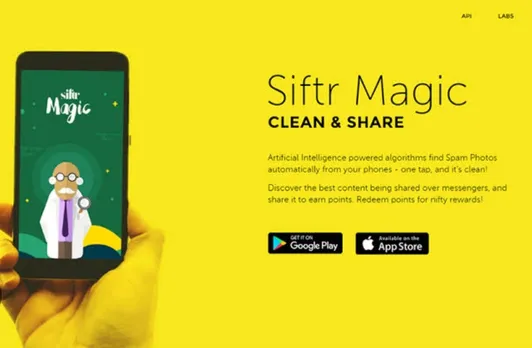 Scans photo galleries and videos, even from messenger apps like Whatsapp, Instagram, Snapchat and more.
Available in multiple languages such as: English, Malay, Spanish, chinese, French, Portuguese, german, Italian , etc.
Detects and deletes to help you run your phone smoothly.
10. HOPPER
Hopper is a travelling companion, a hands down and one of the highest rated AI apps in the market. The app uses its network to find you flights, hotels and rental cars at a cheap rate.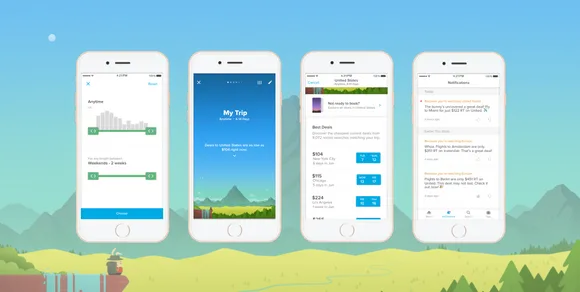 With 95% accuracy, it monitors and accommodates you with the lowest prices in the market. This app helps you in saving money too.
Your hassle-free, reliable traveling guide.
Hopper keeps a 24/7 monitoring approach to sort you with the best price changes.
Analyses and structures the data of 15 billion flight price quotes per day. Earn free rewards.