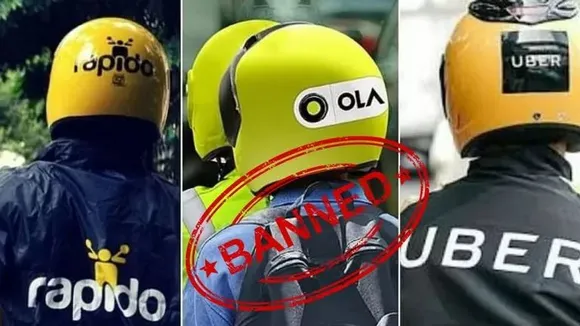 Delhi's bike taxi service has been banned, so you may no longer use one there. The Arvind Kejriwal administration in Delhi has issued an order to halt Ola, Uber, and Rapido's bike services due to alleged regulatory violations.
The Delhi Transport Department has issued a circular warning against people riding motorcycles while transporting passengers. The warning states that failure to comply will result in both a significant fine and the suspension of the accused's driver's license.
A fine of 10,000 rupees is imposed.
According to the Delhi government's notice, it is illegal to transport people on any type of two-wheeler under the terms of the Motor Vehicle Act of 1988. If caught, he would be subject to a Rs. 5,000 first offence punishment and a Rs. 10,000 second offence fine. A year in jail may be imposed as well as the seizure of the bike if the fine is not paid.
Rs. 1 lakh in fines for the aggregator
The Kejriwal administration had already given a warning to Ola, Uber, and Rapido for illegally operating bike taxis in the city before publishing this notification. A punishment of up to Rs 1 lakh may be levied on the aggregator, or the businesses operating it, for violating the Motor Vehicle Act by transporting people by bike-scooter (also known as a "Bike Taxi"). Also, the owner of the bike-scooter may get their license suspended for a period of three months.
This problem is present in many states.
The problem of operating bike taxis without license is the subject of a dispute between several state governments and the businesses operating them. Rapido Company was prohibited by the Maharashtra government for operating a bike business without authorization. The business then applied for a license from the government, but the state rejected it since it was against the law. Following that, the business petitioned the Supreme Court. The Supreme Court declined to grant the business any redress in this situation.
The remaining states may also make a choice.
Now that the Delhi government has banned all three of the main bike taxi businesses, it is thought that other states may follow suit. In addition, inquiries about this bike taxi may get more animated. Describe how the Motor Vehicles Act was amended in 2019 to include a clause stating that no aggregator can operate without a current license.