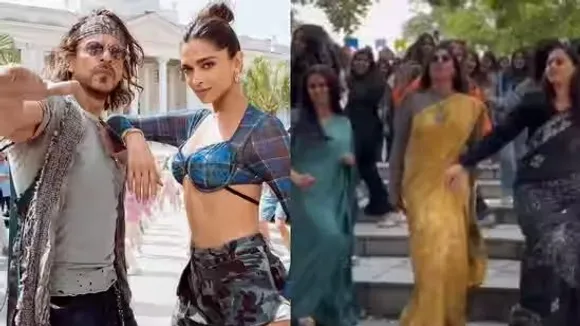 Shah Rukh Khan responded on Twitter to the Jhoome Jo Pathaan dancing video that had gone viral. Professors from Jesus and Mary College's business department may be seen in the film doing the song's hook dance with students while wearing saris. Deepika Padukone and Shah Rukh appeared in the original song.
Shah Rukh commented on the video on social media, saying, "How fortunate we are to have professors and lecturers who can both teach us and have fun with us. They're all rock stars in education.

Students dance to Jhoome Jo Pathaan at the DU college's amphitheatre to start the dance video. Their saree-clad lecturers soon joined them. Almost a million people have seen the video on Instagram Reels. Some just wished they had lecturers like them, while some appreciated the dancing synchronisation.
A user said, "Even we deserve such teachers," which means, "Professors toh hum bhi deserve karte hai." The ma'am in yellow "stole the show," said another. Another person said, "The song is the tone of the country."
Pathaan, Shah Rukh Khan's most recent film, has the song "Jhoome Jo Pathaan." With lyrics by Kumaar, it is performed by Arijit Singh and Sukriti Kakar. Bosco-Caesar was the choreographer, and Vishal and Sheykhar wrote the music.
Bosco Martis had earlier said that Shah Rukh was reluctant to display his abs in the song. "This is without a doubt one of my greatest Instagram photos. I know you were quite hesitant to take this photo, but you are very blessed to have it. And you were so embarrassed to display your abs, sir (red heart emoji).. I will cherish this moment for the rest of my life. I am very grateful to @iamsrk for capturing our poses and nailing our motions. Credit for all of this including the image belongs to @poojadadlani02 This one was definitely stolen. I hope you all appreciate the magnificent Pathaan. @deepikapadukone You radiate glitz and are utterly stunning (three red love emojis).With a picture of him with the actor, he said, "My warmest wishes to my staff.