Pictures of actor Dhanush and his parents during the opening of his new mansion in Chennai's Poes Garden, which is reputedly worth 150 crore rupees, were posted online.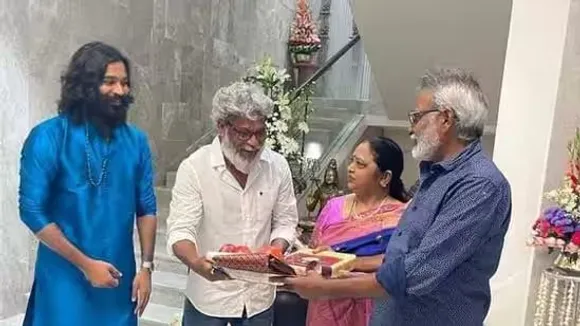 Among others, filmmaker Subramaniam Siva uploaded photos of Dhanush and his parents at their brand-new Chennai home's housewarming celebration. According to sources, Dhanush gave his parents a property in Chennai's Poes Garden valued over 150 crore. Photos from the recent housewarming ceremony were posted on Twitter and Instagram fan sites. Dhanush was dressed for the event in a blue kurta and white pyjamas, while his mother and father were each wearing a blue and pink sari. His father donned a blue shirt with a cream mundu around his waist.
On Twitter, several images from the housewarming celebration were posted. Dhanush stood on a terrace for a group shot with family and friends. Also, there were pictures showing Dhanush and his parents greeting visitors and exchanging sweets and fruits beside a majestic staircase embellished with white flower bouquets.
In a Facebook post and on Twitter, director Subramaniam Shiva shared images and information regarding Dhanush's residence. He stated, according to a Pinkvilla story "My impression of Brother Dhanush's new home is that of a shrine… Children feel like Gods when they make their parents dwell in heaven while they are still alive. They also serve as role models for their kids and other people. Brother, live long."
According to a 2021 report by Tamil entertainment channel Valai Pechu, Dhanush's home is a four story structure that is situated on eight grounds, or over 19,000 square feet. The building is estimated to have cost 150 crore.
Dhanush and his ex-wife Aishwaryaa did the bhoomi pujan for the home at Poes Garden in Chennai in 2021; the actor is said to have spent 150 crore on the project. The marriage ceremony, which took place in February 2021, was also attended by Aishwarya's parents and superstar Rajinikanth and his wife Latha. Dhanush and his ex-wife Aishwaryaa announced their divorce last year. Two sons, Yatra and Linga, who were born in 2006 and 2010, respectively, are the products of Dhanush and Aishwarya's 2004 marriage.
The ex-couple wrote a statement announcing their split on each other's social media pages in January 2022. "Eight years of being friends, a couple, parents, and well-wishers to one another. The road has been one of development, comprehension, adjustment, and adaptation. We are here at the point when our routes diverge. We have made the decision to end our relationship as a couple in order to better get to know one another as individuals. Please respect our choice and allow us the space we need to cope with this in private. Om Namaskaree! Share the love, D "Dhanush had disclosed in a tweet.
The previous week saw the Telugu and Tamil releases of Dhanush's most recent Tamil flick Vaathi. It is under Venky Atluri's direction.