It seems that every day there are new and incredible images that spread across the internet like wildfire. Here, we take a look at the most share-worthy pictures that have gone viral in the last 24 hours.
Devil's Horns
Qatari sunrise photographed under a partial eclipse
The appearance of tsunami-like clouds
There are many unexpected situations in nature, and one magnificent image of clouds that was recorded on film has gone viral.
The video, which was posted on Reddit, depicts a massive cloud formation moving approaching a row of tidy homes on an otherwise deserted street. The peculiar cloud pattern, also known as an arcus or roll cloud, first resembles waves.
"I was under the notion it was a tsunami I've never seen clouds like this before," the caption of the post said.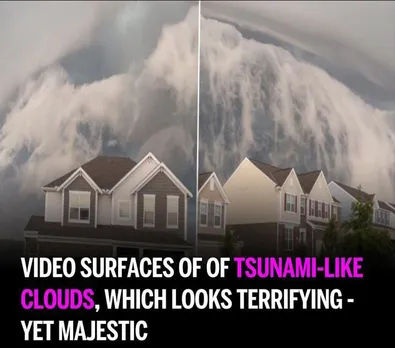 Largest nuclear blast
Until Russia eventually made the footage of the largest nuclear explosion ever witnessed public in 2020, it was guarded in strictest confidence.
The enormous bomb, also known as the Tsar Bomb, was set off on October 30, 1961, off the coast of Severny Island, close to the Arctic Ocean.
It is a hydrogen bomb that contains 50 megatons of explosive, or 50 million tonnes.
To put it in perspective, it was 3,333 times more powerful than the bomb detonated on Hiroshima, Japan, which resulted in the deaths of 140,000 people.