Billionaire Kylie Jenner is known for making big business moves and purchases. And now, the 25-year-old is starting construction on her multimillion 'mega mansion'.
Three years after Kylie Jenner bought a $15 million plot of vacant land near her mom Kris Jenner and sister, Khloe Kardashian's compounds, construction on her home has finally started. The beauty mogul reportedly forked out a record price in the area for the property.
In aerial photos, the massive structure of a mansion can be seen. It is being built on a sloping hill.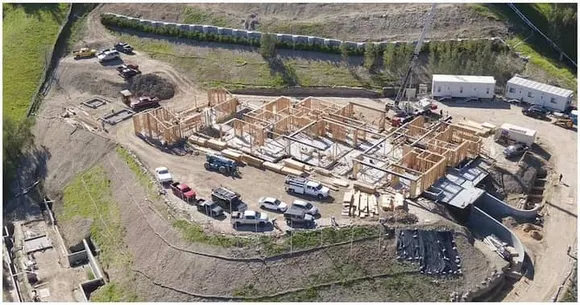 DailyMail reports that the more than multimillion 20 000 square metres (5 acres) property includes enough space for other structures, including what appears to be a 12-car garage for Jenner's expansive collection of expensive sports cars and SUVs.
Apart from the living spaces, a pool and what looks to be a sports court for recreation and to facilitate her workouts are also being built, the publication reports. The businesswoman may even add some office space to the property.
In the photos, several sections of the property can be seen covered in black tarps, with another structure being erected in the bottom corner of the space near the road abutting the construction.
According to reports, the main house is expected to be around 1 400 square meters (18,000 square feet), with a smaller guest house elsewhere.
Jenner, who has in the past dealt with stalkers, will also reportedly make sure to add a building to house her security team.
King Kylie's new Hidden Hills property is situated in between properties owned by her mom and older sister, Khloe. Kim And Kourtney Kardashian also live nearby. Kris' 8-bedroom mansion cost her more than R355 million ($20 million), while Khloé built her home on a property she purchased for over R302 million ($17 million), DailyMail reports.
The billionaire's latest build is the crowning jewel in her already impressive property portfolio.
The reality star currently lives in an R621 million ($36 million) mansion in Holmby Hills. She is selling the Beverly Hills mansion she shares with the father of her children, Travis Scott, for a reported R388 million ($21.9 million).