Rihanna the popstar of G.O.A.T. has made a history at the Super Bowl Halftime Show, becoming the first pregnant woman to star in the halftime show.
The 34-year-old also revealed her baby bump at 2023 Super Bowl Halftime. The performer took the stage in Phoenix Sunday, dressed all in bright red from head-to-toe.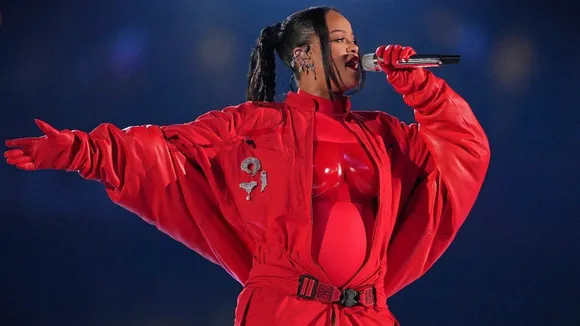 Rihanna revealed about the big news in the opening moments of her performance, rubbing her stomach and leaving the zipper of her outfit, a jumpsuit layered over a close-fitting bodysuit and sculpted bandeau, down to reveal her belly.
The Grammy winner and her beau, rapper A$AP Rocky, welcomed their first child in May 2022. And now they're expecting their second one. He was seen excitedly supporting her on the sidelines during the halftime show, filming her performance and dancing along.
Rihanna opened her highly-anticipated Super Bowl performance with "B-Better Have My Money" and also performed her hits "Run This Town" and "Umbrella" on Sunday.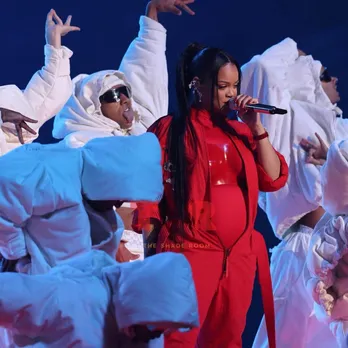 But in the midst of all someone seems to be annoyed with her alot...Claiming that she has NO TALENT !!
Former President Donald Trump lashed out at Rihanna on his Truth Social platform right after she wrapped her halftime performance at Super Bowl LVII, attacking her he qouted the "single worst Halftime Show in Super Bowl history." The Sunday's digital attack followed a Thursday post in which Trump ranted that the singer was "Bad everything, and NO TALENT!"
The 45th president bashed her halftime performance as an "EPIC FAIL". "Without her 'Stylist' she'd be NOTHING," the ex-president added.
The actual comment reads "Rihanna gave, without question, the single worst Halftime Show in Super Bowl history," wrote Trump. "This after insulting far more than half of our Nation, which is already in serious DECLINE, with her foul and insulting language. Also, so much for her 'Stylist!'"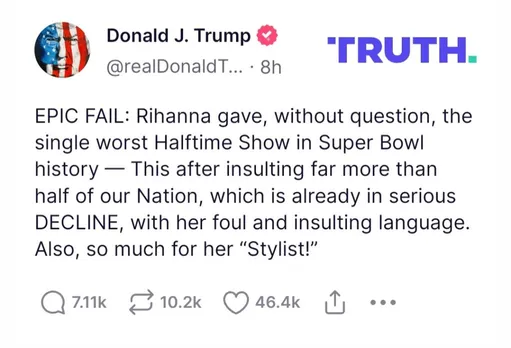 The cause for his grudge was a little mystery; he quoted a post by his former White House doctor, Rep. Ronny Jackson (R-TX), in which the Texas congressman complained that Rihanna had "made a career of spewing degenerate filth while badmouthing America every chance she gets."
"Why is the NFL showcasing this crap?" wrote Jackson. "Rihanna SHOULD NOT be the halftime performer!!"