Never Kiss your best friend: A pure love story between two friends fold perfectly. Anya Singh & Nakuul Mehta's sweet chemistry overshadows Karan Wahi.
Never Kiss Your Best Friend, a show came on Zee5 during pandemic times and entertained so many with a light weight story between two best friends and complications in their love life. Now we have the second season of the show and guess what it has more surprises than the first one.
Unlike the first part this part of the series is not based on any novel but its all fiction. Story starts with the resume button in the life of Tanie Brar (Anya Singh) and her office chaos. Tanie is working on projection as a writer at a production company, Meraki. That's where the boss enters, Lavanyaa Oberoi (Sarah Jane Dias), a perfect but helpless boss.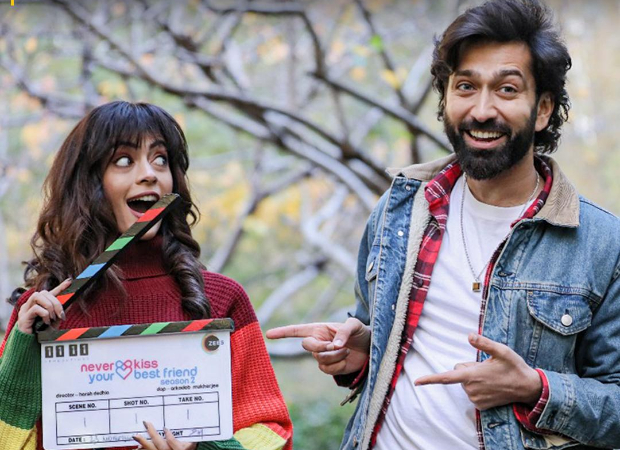 Helpless for the reason that she is leading the web part of the company and in the very start it reveals that she has only two years to bring a good project on board. Tanie on the writer's part with lot of delays comes with a good story & Lavanyaa locks it and discusses with the director, sorted.
Well, not yet! As it turns out that the director is none other than, Sumer Dhillion(Nakuul Mehta), once best friend & ex-boyfriend of Tanie Brar. They came together after 2 years of break-up and neither of them backs off from the project as they are on their important part of career and off course why would they? How would story go ahead if they simply back off?
During casting of the show, team locks that one super star who has given a blockbuster to the company but is denying for any web shows, Karan Malhotra (Karan Wahi). Tanie apparently convinces him for the show and he likes her vibes and goes for the audition. The story ahead looks quite clear but it isn't really.
This time the series is not just hopping around teenagers and their love life complications, it also covers how mature people or people from not Gen Z has their own definition of Love. While going through the messy love triangle of Tanie, Karan & Sumer, Bittu Mama, Tanie's uncle (Jaaved Jaaferi) is well sorted and waiting for love of his life from last 30 years. He is still trying his best to get it with a pure heart and no setbacks.
This season has been presented very well, courtesy to director Harsh Dedhia. The story flows smoothly and we didn't even realize it has arrived to vile turns. Director has paid attention to every little thing and its significance.
The pre-production part of any Webshow or movie is the interesting part to watch other than the love stories. On the performances part, Anya Singh has done notably well around so many stars. She's the narrator of the story and lives the character solely.
Karan Wahi displays his hotness with subtle reactions while Nakuul Mehta Nakuul Mehta is if Hrithik Roshan and Ranbir Kapoor had a baby one day. The actor looks like he is inspired by the two actors to shape Sumer.
While being self-aware and deeper, Never Kiss Your Best Friend Season 2 also ends up being confusing at points. And you cannot ignore that. After all the perfect twists and turns the season doesn't end on a good part from the audiences perspective.
Rating: 3/5