BTS at the Grammys 2022 from their red carpet entry to Bang PD joining them, from flirtatious V to their smooth like butter performance. They proved that they are Asian superstars
Recently, the 64th annual Grammy Awards took place on Sunday i.e on 3rd April. at the MGM Grand Garden Arena in Las Vegas. The musical gala started telecasting live from 8 and went on till 11:30 pm ET/5-8:30 pm PT.
From the stunning red carpet of BTS entry to V's moments with Lady Gaga and Olivia Rodrigo, their appearance at the ceremony continues to be a subject of much discussion. They also gave their smooth-like butter performance.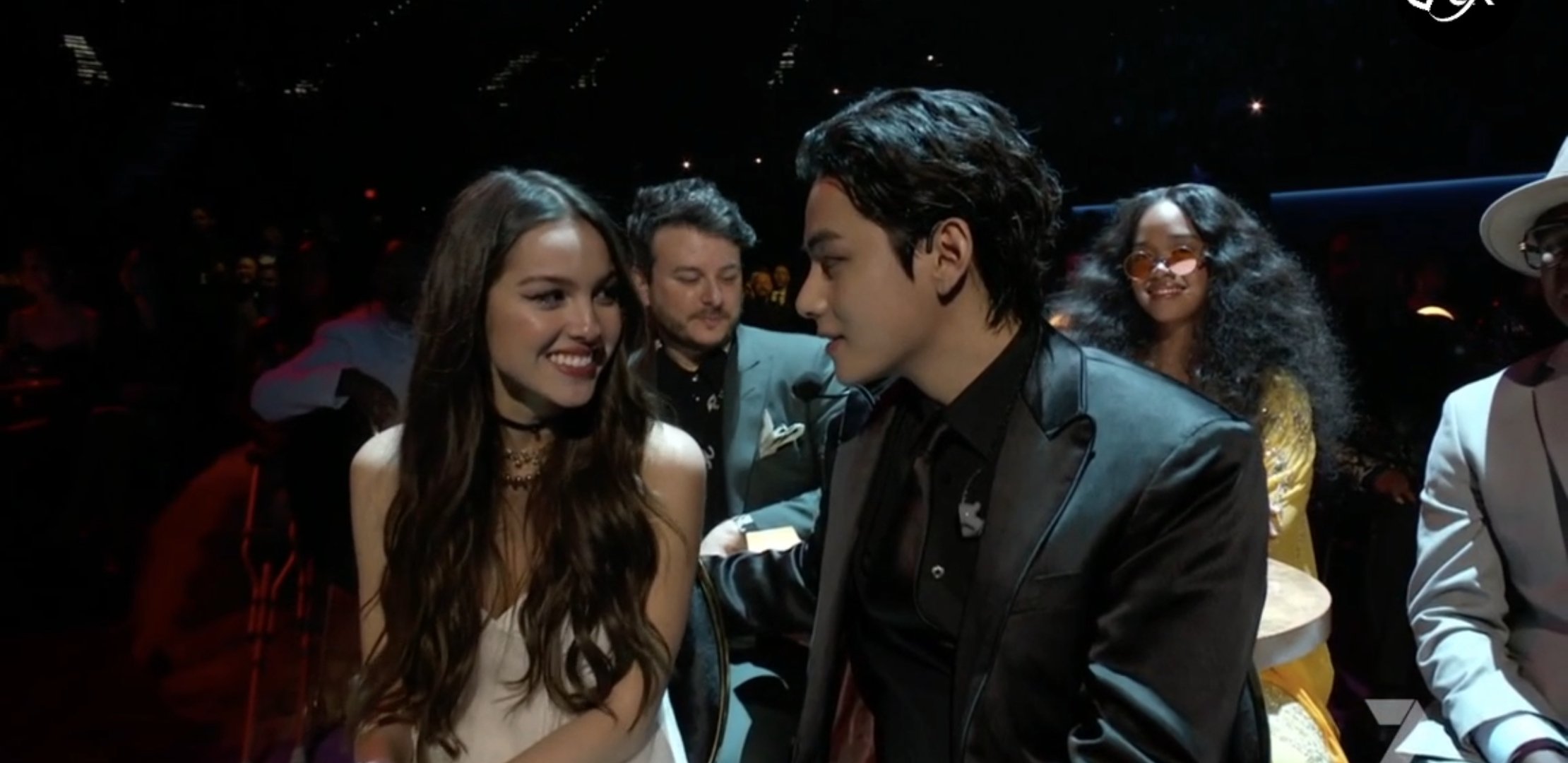 BTS's Red Carpet Dope Entry along with PD Bang
BTS made red carpet entry wearing custom Louis Vuitton suits with sneakers in a range of colours from bright white to muted blue.

The red carpet entry became more special when PD Bang join them with his extraordinary aura. He shook hands with the seven members and lightly touched Jin's wounded hand and this video went viral.
Trevor Noah calling dibs on RM and Jungkook to sing Squid game Song
Host Trevor Noah delighted fans when he said that he had 'dibs' on BTS's leader RM who also functions as the translator for the group. After asking RM where he learned English from, Trevor Noah tried to show his knowledge of Korean shows by singing the theme song of Squid Game.
RM looked at him poker-faced and asked, "So what should we do?"
This joke by Trevor Noah was criticized by many ARMY for making a racist joke on BTS while singing the Squid Game song.
V Acting- Flirting play with Olivia Rodrigo by whispering in her ear making her gasp
Ahead of BTS' Butter performance, V was seen sitting next to Olivia in the audience as she smiled. He then nodded and whispered in her ear.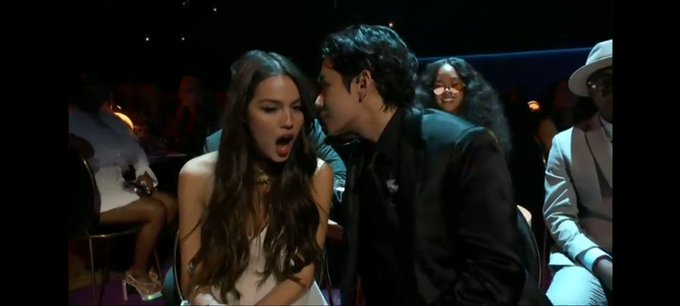 In the video, Olivia was seen gasping as V showed her a card. He then pointed at the stage and flicked the card away.
The duo also posed together for a picture at the ceremony.
Fans go crazy over both of them.
BTS's Best stage performance on their hit single Butter
BTS gave their best mesmerizing stage performance at Grammy Award on their hit song "Butter" with their spot-on choreography, gorgeous vocals, sharp fashion, and kind of spirit.
As we know BTS's Jin had to undergo surgery for his index finger a couple of weeks ago. Even though he couldn't actively perform in the performance of Butter, he did manage to show his performance.
BTS's Grammy performance was totally a new choreography and Jungkook gave his best in the performance which was just mind-boggling.
He didn't get much to prepare as he was under quarantine for testing positive for Covid-19 and was released and was granted permission to join the Grammy just one day before.
His agency made the following announcements through Weverse. Here is what the BigHit said:
We would like to inform you that BTS member Jung Kook has made a full recovery from COVID-19 and his quarantine has concluded as of Saturday, April 2 (PT).

Jung Kook has been under self-quarantine and administering self-treatment since last Sunday, March 27 (PT), and in accordance with the guidelines of health authorities in the United States, Jung Kook can resume his daily activities from today. He experienced a slight sore throat during the quarantine but he has made a recovery from it.

Upon conclusion of the quarantine, Jung Kook took a rapid antigen test in the United States to join the schedule for the Grammy Awards. The result came back negative, and the awards organizer has approved of his Grammy Awards participation.

We would like to express our sincere gratitude to the fans who have shown concern for our artists' health.

We will continue to place our highest priority on the health and safety of our artists and fully cooperate with the requests and guidelines of healthcare authorities. Thank you.
BTS performance was given a standing ovation.
V gets a sweet kiss on the cheek by Lady Gaga
Kim Taehyung received a heartwarming welcome from the beautiful Lady Gaga in a form of cheek kiss.
Here are surprising fan's reactions:
BTS hugging each other on V live after the Grammy Awards were announced
BTS was nominated for the Best Pop Duo/Group Performance category at the 64th Annual Grammy Awards.
Even if BTS didn't win the award, they cheered on Doja Cat, while consoling each other with hugs. Suga and Jimin hugged each other after it was announced.
It was the group's nomination for Grammy for the second time in a row.
BTS Grammy's red carpet entry till their performance was totally dope. The best fact about the overall group performance was that BTS rehearsed with only four members RM, Jimin, V, and Suga as they weren't sure if Jin, J-Hope, and Jungkook will join the event. But all the members gave their best performance indeed. Even if they didn't win the award they won our hearts.