K-drama "
Twenty Five Twenty One

" has made fans concerned due to his change in genre.
"Twenty Five, Twenty One" has raised the viewership bar so high including BTS's Jungkook and Girls' Generation's Sooyoung. The drama is a set of 1998 which tells the story of a youth who find new direction and growth after having their dreams taken away. It stars Kim Tae Ri as Na Hee Do and Nam Joo Hyuk as Baek Yi Jin, who first meet when they are 18 and 22 years old and fall in love years later when they turn 21 and 25.
The drama is nearly perfect with visually-stunning cinematography, a touching storyline, many priceless comedic moments, and an all-star cast including Kim Tae Ri, Nam Joo Hyuk, Cosmic Girls' Bona, and Lee Joo Myung.
Despite the serious themes throughout the drama, it has managed to remain relatively lighthearted and even incorporated comedy. Therefore, it's been categorized as a romantic-comedy genre.
Depending on recent episodes fans have come up with many theories like  Baek Yi Jin may not be alive in the present day, others would remind that since it's a romcom, it can't have such a depressing ending. In fact, many have already speculated that Gong Yoo would play the older version of the male lead for the present day.
But now fans are concerned that drama might get a potentially sad ending after the K-Drama has apparently switched genres. From Rom-Com to Melodrama.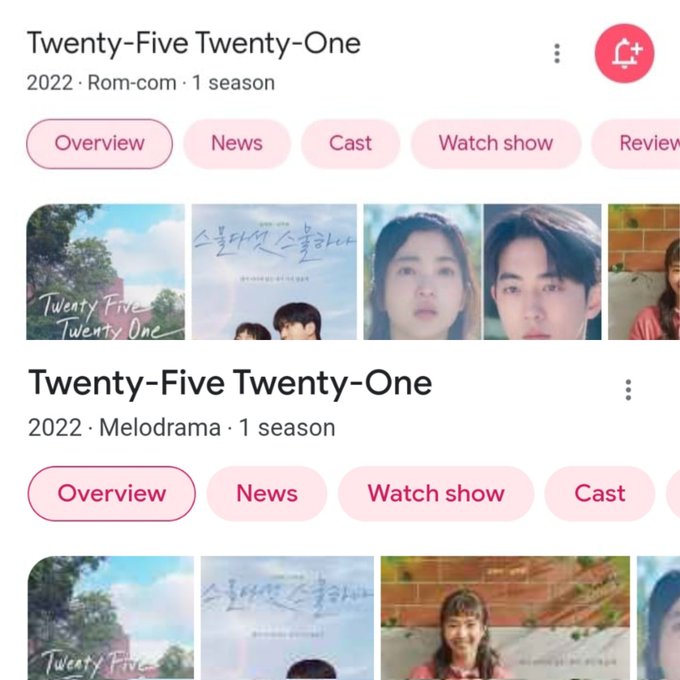 fans have noticed a small detail in online listings for Twenty Five Twenty One. When you now search for Twenty Five Twenty One, it's categorized as Melodrama. In the past, it was Rom-Com.
Romantic comedies are not free from delving into serious topics and apparently has happy ending but for Melodrama the ending is darker.
In contrast to Western Melodrama, the concept of suffering is a fundamental component. It is partly captured in the word han, which is a deep-seated feeling of sorrow, bitterness, or despair that originates in oppression or injustice which accumulates over time and remains unexpressed in the heart. It is believed by some to be a distinguishing characteristic of Korean culture. Another distinguishing characteristic of Korean melodrama is the emphasis on family. While Western Melodrama tends to focus on the individual, the portrayal of the self in relation to the family in Korean Melodrama is significant. Early melodramatic texts typically dramatize the moral superiority of old values.
In American melodramas, restages of social and cultural values are also pivotal. However, there is more of a tendency to evaluate the rapid transformation of social relations by looking back and consulting the old order of things. In typical endings, characters whose world has collapsed around them usually find another form of personal satisfaction and re-invest their faith in the typical American dream: a classic Hollywood happy ending. Contrast this to Korean melodramas, where the main characters don't recover. When Korean melodrama characters realize they've lost it all, the film usually takes them back to a fleeting memory of past happiness and then ends, eschewing resolution.
Just like Snowdrop, which was the Melodrama genre and have considerably devastating endings, it is only natural that Twenty Five Twenty One fans are concerned about changing genres.
There are still a couple of more weeks left to Twenty Five Twenty One, so let's trust the writers for now. The drama is currently running with new episodes every Saturday and Sunday. For international viewers, it's released on Netflix.