Nature is filled with beautiful places and here are the top 8 world's coolest tree houses that will make you wish to go there.
Our nature is filled with a lot of beauty and treehouses are one of them. Treehouses is platforms or buildings constructed around, next to or among the trunk or branches of one or more mature trees while above ground level. Treehouses can be used for recreation, workspace, habitation, a hangout space and observation.
According to Prehistoric hypotheses building tree platforms were to stay away from dangers on the ground is a habit of all the great apes, and may have been inherited by humans. prehistoric man-made tree houses have never been found by paleoanthropologists, but the remains of wooden tree houses would not remain. However, evidence for cave accommodation, terrestrial man-made rock shelters, and bonfires should be possible to find. . This has led to a hypothesis that archaic humans may have lived in trees until about 40,000 years ago.
Historically trees have been used as part of creating a building. For example, the walls of a chapel, hold platforms or houses built onto them or around them. Chêne Chapelle is a striking example of a tree as part of the building. Modern tree houses are usually built as play areas for children or for leisure purposes. Modern tree houses may also be integrated into existing hotel facilities. The Korowai people still build tree houses, not elevated but fastened to trees in the tree trunks of tall trees, to protect occupants and store food from scavenging animals.
Some treehouses are built for living space. The main part of the structure is built with industrial materials. This is a movement towards "living architecture".
Along with subterranean and ground level houses, tree houses are an option for building eco-friendly houses in remote forest areas, because they do not require a clearing of a certain area of forest. However, the wildlife, climate and illumination on ground level in areas of dense closed-canopy forest are not desirable to some people.
Here are some of the world's coolest treehouses we have brought for you all:

1. The Mirrorcube, Sweden
The Mirrorcube is an extraordinary hide-out among the trees, which is camouflaged by mirrored walls that beautifully reflect their surroundings. The base is made up of an aluminium frame around the tree trunk, whereas the walls are covered with reflective glass. The treehouse has six windows that offer breathtaking panoramic views, whereas a 12 m long bridge leads guests up to the tree room. Plus, all the rooms have free WiFi!
2. Silky Oaks Lodge, Australia
Silky Oaks Lodge is a luxury accommodation option set in the World Heritage-listed Daintree Rainforest, which is famed for being the world's oldest rainforest. The rainforest is situated outside Queensland, Australia's Mossman Gorge River, and is a sight to behold. As you reach the place, you will be surprised to see around 40 contemporary treehouses uniting around a treetop, then there is a bar and open-air restaurant overlooking the river.
3. The Bird's Nest, Sweden
The Bird's Nest room was created with a vision to blend in with the surrounding natural environment in such a manner that it becomes difficult to distinguish one from another. These have been built in a unique manner to help their guests to be at one with nature and have more time with themselves – in a majestic treetop bird's nest, which hardly one can see into. In fact, these treehouses are able to confuse even the birds, and although they look like massive nests from the outside, they come with all modern amenities.
4. Soneva Kiri Treepod, Thailand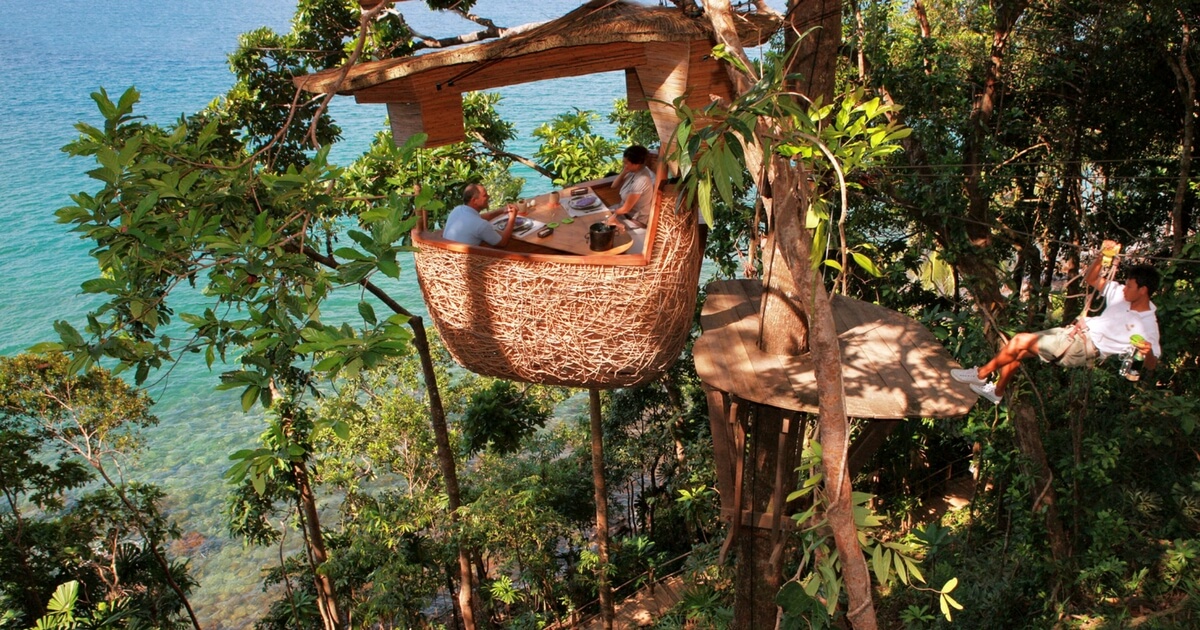 The Soneva Kiri Resort is one of the gorgeous accommodation options that you will find in Koh Kood, Thailand. Why you should check this resort is because of its one-of-a-kind feature, tree pod dining. To experience it, you will first head to the pod on the jungle floor, which is then hoisted into the canopy, where you will be served a meal by a waiter. Apart from having your meal, you also get to enjoy the best of views of the forest and the sea.

5. Nothofagus Hotel, Chile
You pick this accommodation option to enjoy a unique stay in the middle of northern Patagonia, where different accommodations have been inspired by the magic of the forest. The hotel is set at the treetops of the Huilo Huilo Biological Reserve in Chilean Patagonia, and features 55 rooms, a restaurant on-site, a spa, and offers opportunities like horseback riding, hiking, biking, and much more.
6. Hapuku Lodge and Treehouses, New Zealand
This contemporary country hotel is located on a deer breeding farm on the South Island of New Zealand. Located around 12 km north of the renowned eco-marine town of Kaikoura, it sits comfortably at the base of the Kaikoura Seaward Mountain Range. These contemporary treehouses are big enough to accommodate families and couples, where along with the stay, you can also enjoy sea kayaking, fishing, playing with dolphins, and swimming with the seals.

7. Free Spirit Spheres, Canada
These spheres are available for rent, while these spherical rooms are accessible via small suspension bridges and spiral staircases. The highlight of these rooms is that they offer the ideal mix of luxury and eco-friendly minimalism. As regards the room, you will find a sphere suspended and tethered by three vertical ropes on three separate trees at strong points. This helps in distributing the load evenly over the three trees, resulting in a beautiful stable hang.
8. Finca Bellavista Treehouse, Costa Rica
This beautiful treehouse located along the Rio Bellavista near the Pacific coast of Costa Rica seems like emerging from the evergreen rainforest and is one of the first self-sustaining residential treehouse communities. Set in the canopy of more than 600 ac of rainforest, you will find it tucked far away from the outside world, it still offers easy access to remote beaches, National Parks, and beautiful mountains.