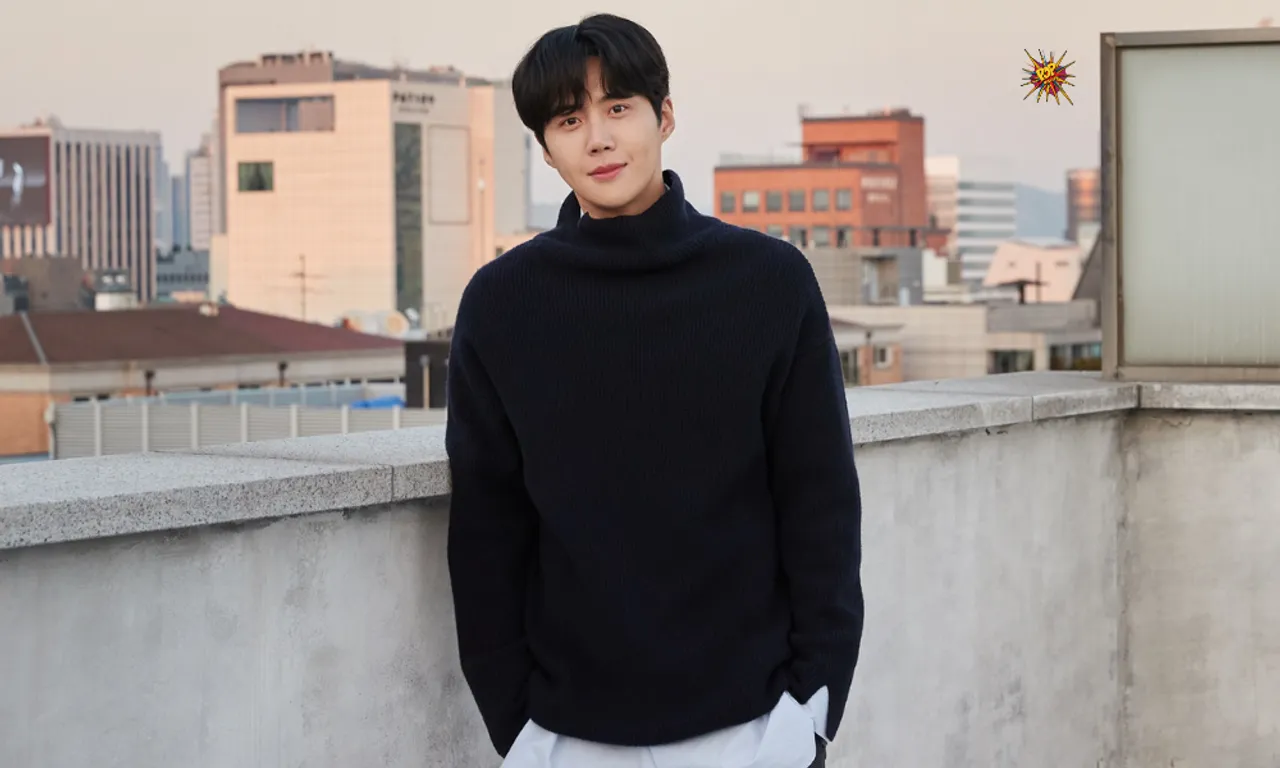 Dispatch unveiled in-depth 284 messages exchanged between the actor and the ex-girlfriend on the day she confirmed her pregnancy.
In the month of October Dispatch revealed the full dating history between Kim Seon Ho and his ex-girlfriend Choi Young Ah who made gaslighting and forced abortion accusations.
Earlier today Dispatch revealed more KakaoTalk chat logs between the actor and his ex-girlfriend which, reportedly, have taken place on 24th July 2020, when the ex-girlfriend visited the OBGYN and confirmed her pregnancy.
According to the screenshots obtained exclusively by Dispatch, the ex-girlfriend reached out to Kim Seon Ho with the news of her pregnancy while he had been on set shooting 2 Days 1 Night.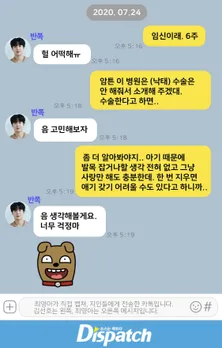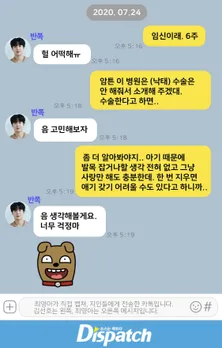 Choi Young Ah (CYA): I'm pregnant. Six weeks.
Kim Seon Ho (KSH): What… What are we going to do?
CYA: This clinic does not offer abortions, though. So if I want to get rid of the baby, they'll refer me to one that does offer the service.
KSH: Hmm. Okay, let's think about it together.
CYA: Yeah, we need to look into our options. But I really have no intention of tying you down with this baby. I honestly don't need anything else but your love. I'm only hesitating because the doctor said if I get rid of the baby now, it may complicate my future pregnancies.
KSH: Mm. Okay. Give me some time to think, but don't worry too much.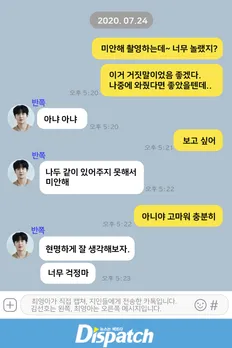 CYA: I'm sorry, I know you're on set. I scared you, didn't I?
CYA: I wish it wasn't true. It would have been better if the baby came to us later…
KSH: No, no.
CYA: I miss you.
KSH: I miss you too and I'm sorry I can't be there with you.
CYA: No, it's fine. I'm already so grateful.
KSH: We can think about this and make good decisions together.
KSH: There's nothing to worry about.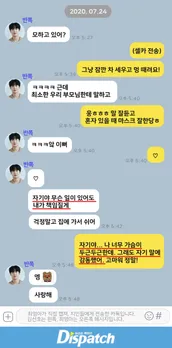 KSH: What are you up to?
CYA: (Media)
CYA: I'm pulled over on the side of the street, kind of spacing out for a bit.
KSH: Haha.
KSH: By the way…
KSH: I think we should at least tell my parents.
CYA: Okay, hehe. I listened to you and wore a mask even though I'm by myself. (Deleted media)
KSH: Aw, good! So pretty.
CYA: (Heart emoticon)
KSH: (Heart emoticon)
KSH: Babe.
KSH: No matter what happens…
KSH: I'm going to take care of you.
KSH: So stop worrying and go home. Get some rest.
CYA: Babe… My heart is racing! What you said really moved me to tears. Thank you so much.
KSH: I love you.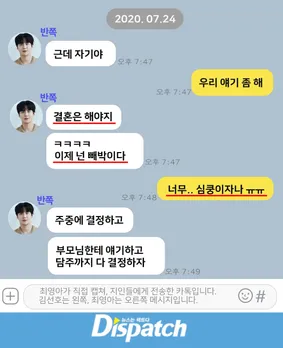 KSH: Hey, babe?

CYA: We need to talk.

KSH: We need to get married.

KSH: You don't have a choice now.

KSH: LOL.

CYA: You're making me blush.

KSH: We should come up with a plan over the week.

KSH: We'll tell my parents and settle everything by next week.
Dispatch revealed, Kim Seon Ho sent words of consolation when the ex-girlfriend shared worries about the baby, the potential abortion, and their future.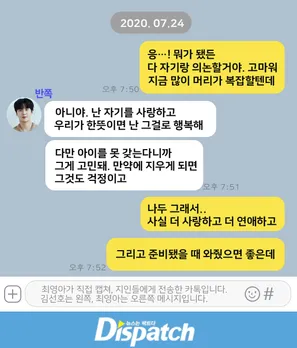 CYA: Okay! From now on, I'll talk everything over with you, whatever it is.
CYA: Thank you… I know you probably have a lot to think about.
KSH: No problem. I love you.
KSH: And as long as we're in this together, I'm happy.
KSH: I'm only worried because you might not be able to have children again.
KSH: And the abortion itself is a big deal, too.
CYA: Yeah, me too. That's why I keep saying I wish we had more time to be in love…
CYA: …before the baby came.
KSH: I want to be blessed. I want this to be a blessing for us. So I'm sad that this is how it has to be.
CYA: I know. Let's keep thinking about it.
KSH: You know that, right?
KSH: Of course. We'll be okay. We'll get through it together.
KSH: I have never loved anyone in my life as much as I love you.
CYA: I feel the same way. I never expected to get pregnant, though.
Dispatch included that a friend of the ex-girlfriend's shared that neither Kim Seon Ho nor Choi Young Ah had been mentally prepared for parenthood.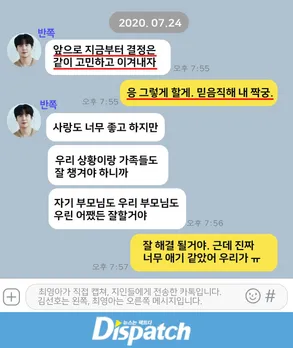 KSH: Going forward, we make all the decisions together and we get through this as one. Okay?

CYA: Okay. I trust you, my best friend.

CYA: No matter what happens… We'll stay strong and we won't hurt each other.

KSH: Yeah. I mean, I love you so much and all…

KSH: …but we also have to think about our current situations and our families. Right?

KSH: Both your parents and mine. But anyway, I know we can do this.

CYA: We can do this. I just can't believe how we had been.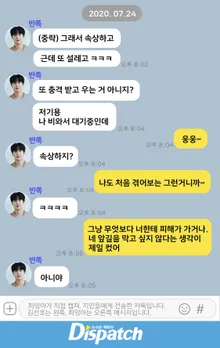 KSH: …and I'm brokenhearted.

KSH: But at the same time, I'm excited for us.

KSH: I hope you're not crying right now.

KSH: Hello?

KSH: I'm on standby because it started raining.

CYA: I see, I see.

KSH: Are you okay? I bet you're feeling down.

CYA: I mean… This is a first for me, too.

KSH: Haha.

CYA: I really don't want to be a burden to you. I can't stop thinking about the fact that I might be getting in your way to success.

KSH: But you are not.
KakaoTalk messages showed Kim Seon Ho trying to take responsibility, which—again—went against what Choi Young Ah insisted in her accusations.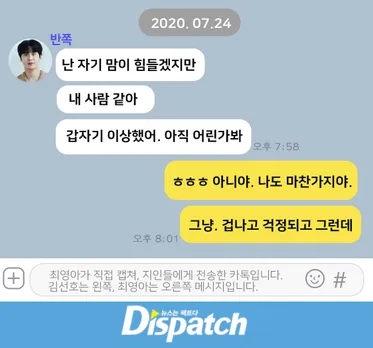 KSH: I know this hasn't been easy for you.
KSH: But I feel like you're my person now.
KSH: I don't know, it feels weird. I guess I'm still young.
CYA: Haha. No, I get it. I feel the same way.
CYA: I'm scared and worried.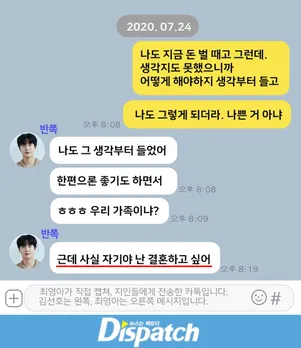 CYA: I should be focusing on making money, too.
CYA: I didn't expect this to happen. So I'm trying to figure out what I should be doing next.
CYA: It's natural that we react this way. It's not a bad thing.
KSH: Yeah, same.
KSH: I felt really happy, but… in a way.
KSH: Haha. We must be family already.
KSH: But seriously, babe. I do want to get married.
In the accusation the ex-girlfriend's claim that Kim Seon Ho threatened her with risking ₩900 million KRW (about $766,000 USD) in penalties, Dispatch then explained that while Kim Seon Ho did briefly worry about the financial loss that a scandal may cause, along with the potential loss of work that would follow, he immediately went back on his words and apologized for "being pathetic" like so.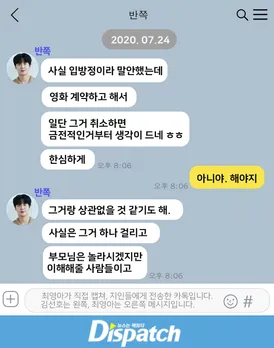 KSH: I didn't bring this up because it's stupid.
KSH: But I do have movies I signed to take on.
KSH: So… if I back out on those, I will face financial loss. I can't not think about that. Haha.
KSH: I'm pathetic.
CYA: No, you're not. You should be thinking about that.
KSH: But maybe it won't matter.
KSH: That's the only thing that worries me.
KSH: My parents will be surprised, but they'll understand
KSH: And… what if I have to stop acting?
KSH: I think that may be tough on me.
CYA: It's not easy becoming parents when you're ready.
CYA: I don't think we should take this on.
KSH: I'm not saying we shouldn't take this on.
KSH: I'm just saying, in all honesty, I will feel that way .
CYA: And I don't even like the idea of getting married because I'm pregnant.
CYA: I don't want us to keep dating because you feel a sense of responsibility about us.
KSH: No, I love you.
KSH: I just love acting, too. It will make me sad not to be able to keep acting.
KSH: Anyway, this is why I keep saying we need to be extremely careful with the decision. No regrets, right?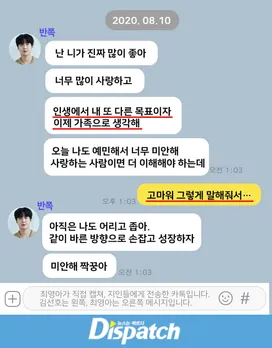 KSH: I really, really love you.
KSH: So much.
KSH: You are one of my purposes in life.
KSH: I think of you as family.
KSH: And I'm so sorry I had been on the edge today.
KSH: I should have tried to understand you more.
CYA: Thanks for saying that.
KSH: I'm sorry I'm still a petty child sometimes.
KSH: But let's help each other grow and mature together.
KSH: Sorry, bestie.
According to Dispatch, the two remained affectionate toward each other until the end of 2020. Right around Christmas, the ex-girlfriend sent pictures of her new luxury bag to Kim Seon Ho and showed off the bouquet of roses she received assumingly from him too.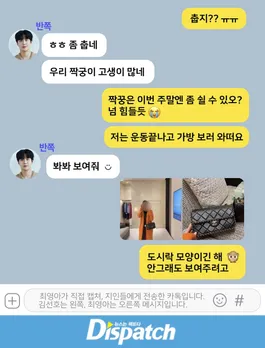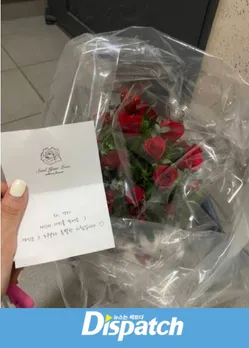 CYA: It's cold, isn't it?
KSH: Yeah, a little bit.
KSH: Hope your day hasn't been too exhausting, bestie.
CYA: Can you take this weekend off? You're the one who must be exhausted.
CYA: I'm done with my workout and out shopping for a bag.
KSH: Can I see it?
CYA: (Media)
CYA: It looks like a lunch box, doesn't it? I meant to show you.
But in 2021, the relationship fell apart—Dispatch claimed, quoting a mutual friend's comment about the couple.
I doubt the relationship had been easy for Kim Seon Ho. He always found out last. He found out last that she had been divorced before. He found out last that she had been lying and hanging out with other men. He found out last that she faced threats and that she kept audio and video recordings of him, too. How was Kim Seon Ho supposed to keep seeing her?
And with a final screenshot from July 7, 2020, Dispatch backed up its previous coverage of Choi Young Ah's lengthy apologetic text message and the claim that Kim Seon Ho eventually broke up with the ex-girlfriend not because of his "personality change," but because of her complicated personal life.
I'm sorry for doing this, Seon Ho, when you're on set for shoots. I love you and I want the best for you but I know that can't justify the fact that I've been lying to you. I know everything I've done wrong to you. I wanted us to be happy, so I tried to keep you in the blind. But I see now that it has hurt you and made you miserable. I'm so broken hearted right now, but it's all my fault. So I'm going to learn from it and put up with this pain.

I know you don't want to hear me out right now and you probably can't even believe anything I say. But you meant everything to me and so I want to apologize from the bottom of my heart again. I'm sorry for the times that I've hurt you.

I've stayed home since last night and thought about what I could've done differently. I also thought about how you must have felt and what I can do from here on. I decided that I can change by being more transparent with you. I've always thought I'm a complicated person and so I can't share a lot about myself, but I realize now that I could've just chosen to open up to you. It's a shame I'm only seeing how easy that would have been because I know you tried to convince me once but I didn't understand.

It's not that I didn't mind lying to you. I did what I did because I love you so much. In fact, the way I feel about you is so much more than just love. I cherish you. And I have always wanted to protect you. And I think it led me to make some wrong decisions.


Yesterday, you tried to give me a second chance so that I could make things right between us. I know I have disappointed you beyond repair at this point, but if only you could find it in your heart to let me try again, I'll give it my best.

Lying isn't habitual for me. I made a mistake because we've been getting into a lot of fights lately and I didn't want to make things uncomfortable between us. I was stupid to make such a choice, but I honestly wanted us to be happy. That's all. I'm not trying to excuse myself for the choice I made. I'm just saying I was trying to do what's best for us. I regret it deeply now.

I know that had I told you the truth, you would have told me that it's all okay. But I guess I became afraid that you might feel anxious deep inside. And I wanted you to feel completely safe with me. Come to think of it, I don't know if I could've done the same, had I been in your position. I know you tried really hard to understand where I'm coming from. I also know that you tried to help me make the right choices, too.

That's why yesterday I felt like I can finally come clean. It scared me, but in the moment, I felt like I could tell you everything and just start over on the right foot. It must have come as such a shock to you though, I know how offended and baffled you must have felt.

This is super selfish of me, but spending time with you made me expect a grand future for us. Yet it also made me feel terrified when you started becoming more popular with your career really taking off with those tv shows, movies, etc. I think I started feeling pressured, like I should become a better person too so that I deserve to stay by your side… so that we can have the future that we always dreamed of.

That might explain why I started rushing into things more recently. I know I've been hasty with contracts and YouTube. It's not for money or success though. It's because I wanted to become someone worthy to be with you.

You must be feeling extremely angry and betrayed right now. But I never, ever meant to make you feel that way. I only wanted us to be happy. I should have known better. Can you please let me fix this? I promise you, I will earn your trust back. I know you're disappointed because I keep making the same mistakes and you don't have it in you to trust me anymore. And I know you probably don't even want anything to do with me anymore, but please give me one more chance. It's all up to me to make it up to you and I really want to give us another try.

You're the only one I have, Seon Ho. But if you end up leaving me, I'm ready to accept that decision too-because I love you. That's how much I love you and how serious I am about us. But if you could please give me the chance to make this right, I will. Can you please remember the good things about us and let us try again? I will never, ever hide anything from you ever again and I'll never try to justify my wrongdoings either.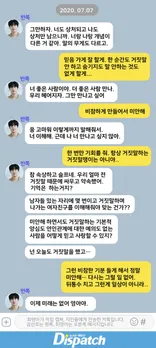 KSH: Let's stop this. This hurts you and me both. I think we have different ideas when it comes to dating. We have different beliefs.

CYA: Please, I'll earn your trust back. I won't ever lie to you again and I won't hide anything from you either.

KSH: You're a good person. You should date someone who deserves you. Let's end things here. I don't want to see you anymore.

CYA: I'm sorry I made you feel miserable.

KSH: Yeah. And I'm thankful that you told me the truth. I even understand where you're coming from. But I just don't think I can keep seeing you.

CYA: I only wanted to be good enough for you. I have always felt bad, and I've always thought I should stop lying to you… that I should stop being shady and tell you the truth. But I kept justifying myself.

CYA: Please give me another chance. I'm not a habitual liar. I can change.

KSH: This really breaks my heart, though. Remember when we had that fight about your lies? Only a while ago. You didn't forget, did you?

KSH: It hasn't been too long since you lied about something super small. I didn't bring it up with you because it wasn't a huge lie or anything… but tell me this. Am I supposed to understand my girlfriend lying to me to hang out with other men? Over and over again?

KSH: You say you're sorry, but you keep lying. You don't have any decency. You don't have any manners. How am I supposed to keep loving you?

KSH: Did you even think about how torn I'd be if I heard about your lies through someone else? I even pretended to not know about them… until you came lying to my face again.

KSH: I told you when we first started dating that I'll understand if you go clubbing with guys. I only wanted you to be honest with me and check in with me.

KSH: But on the day we promised to share a future together, you broke the promise again and shamelessly lied to my face.

CYA: I'm so sorry I made you feel that way… I really won't ever lie to you again. I won't ever stab you in the back, I promise.

KSH: Young Ah, please. There is no future for us anymore.
Dispatch urged readers that, while Kim Seon Ho does take responsibility for the abortion of their baby, he "doesn't deserve to be mocked and blamed…for the ex-girlfriend's false account of what happened."
An alleged friend of Choi Young Ah told Dispatch:
She kept praying and praying for him to come back. I think she went to every religion. She went to temples, churches… She even saw fortune tellers and tarot readers about him. She said she would wait for her prayers to work. But that if he didn't come back, then she would bring him down for good…

Whenever she saw him on television, she said that she couldn't forgive him. She said that she wanted his downfall.