Shilpa Shetty recently took to her Instagram to share her and little Samisha's cute video montage which has left all of us gushing over the mother-daughter duo. The two were twinning in a peach kurta pajama set with a matching pink headband. Shilpa took to Instagram to share the cute video and asked her fans to 'spot the difference' in it. Samisha and Shilpa were both seen wearing adorable matching sets in peach color along with a hairband of the same color.
"Spot the difference! Twinning and winning with my baby girl, Samisha," she wrote in the caption.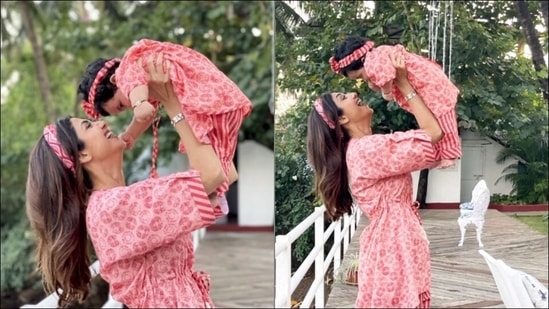 Shilpa's pink set is from a clothing line called Dreamss and the price of the set is Rs 2,890 on the official website. It will definitely not burn your pocket is affordable to purchase for any occasion.

The actress also shared a previous video of her daughter on Instagram on the occasion of Daughter's Day and captioned it as, "Happy Daughter's Day to US, mine and ours. Thank you, Samisha, for choosing me. I promise you that even though we've been mother-daughter from the start, we'll always be best friends forever from the heart,"
We are all full of love seeing this cute mother-daughter duo!