After presenting their speech and performance at the 76th UNGA on Monday, BTS visited New York's Metropolitan Museum (The Met), with first lady Kim Jung- Sook to present Korean contemporary art, Chung Heecho's 'Rhythm of the Five colour luster' as a gift from their country.
Leader RM presented a speech at a bilingual reception on the Met's rooftop garden talking about Korean art- films, dramas, and music, being recognized the world over. He said, "Korean dramas, Korean film, Korean music—but there are still many great Korean artists who are yet to be discovered by the world." He further added saying that BTS felt "a special sense of pride" of being able to support the work of other artists from their country, and are armed with the mission "to try to spread Korean culture through the world and to everyone around the world."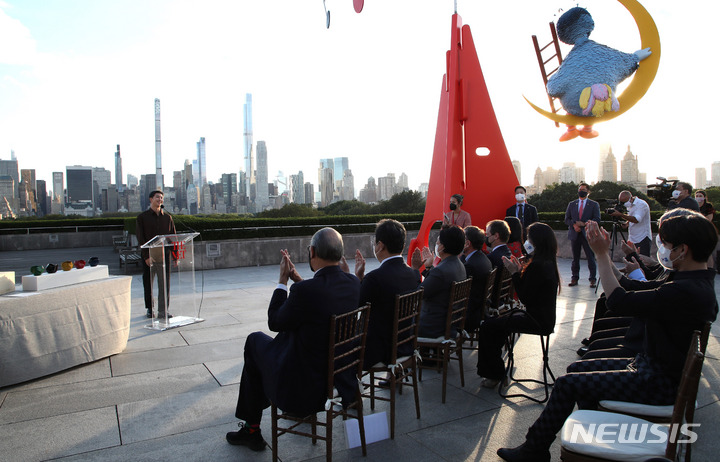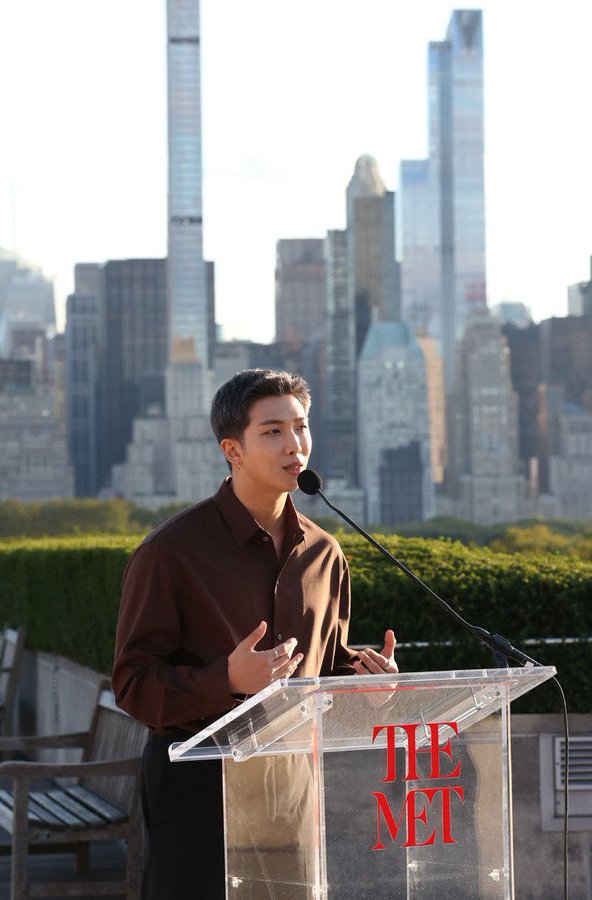 The gift of five richly hued vessels, Rhythm of the Five Color Luster (2013), based on the cardinal directions and five elements of East Asian cosmology, will be included in the Met's first exhibition dedicated to the art form, Shell and Resin: Korean Mother-of-Pearl and Lacquer (13th December-5th July 2022). The show will present around 30 examples drawn from the museum's collection, from an exceedingly rare 12th-century trefoil box from the Goryeo dynasty (918-1392) to a mixed media painting by the contemporary artist Lee Bul.
The history and technical development of Korean lacquer, which traditionally features mother-of-pearl decorations inlayed in pigmented resin, will be examined in the exhibition, as well as the style's significance across Asia, with examples of Chinese, Japanese, and Ryukyu (Okinawan) lacquers and South Asian mother-of-pearl.
Rather than using mother-of-pearl, Chung's focuses on Korean lacquer itself called ottchil experimenting with pigment recipes to create works admired for their depth of colour and luster, according to the Met. The artist's works are also in the collection of the British Museum, Victoria and Albert Museum in London, and the Philadelphia Museum of Art.
The museum's director, Max Hollein while expressing his gratitude said, "We're deeply grateful for this generous gift of contemporary lacquer vessels, a gesture that is particularly meaningful as we look ahead to 2023—when The Met will celebrate the 25th anniversary of our Arts of Korea gallery."
The museum is also currently looking to endow its curatorial position for Korean art through a challenge grant from the Korea Foundation, Hollein said, adding that he and some of the curatorial team plan to travel to Korea next spring.
It seems like BTS today has made a new fan as Hollein said, "Your big hit right now is 'Permission to Dance, That's exactly what we need right now, at what I hope is the tail end of the pandemic. We need to dance more. Thank you for being here."