Today, BTS announced that they have set to drop a remix version of the song "Butter" featuring rapper Megan Thee Stallion.
A statement released on Weverse by BTS says:
"Butter' by BTS has had the singular honor of reaching no. 1 on the Billboard Hot 100 nine times, the most by any song to date in 2021.  To celebrate this historic BTS milestone that was made possible by our fans, we would like to announce the release of a new 'Butter' remix version.
Butter' (feat. Megan Thee Stallion) features the inimitable rap, signature sounds and ad-libbing of three-time Grammy Award-winner Megan Thee Stallion with the exceptional personality of BTS showcased in the original song to create an even richer experience for all listeners."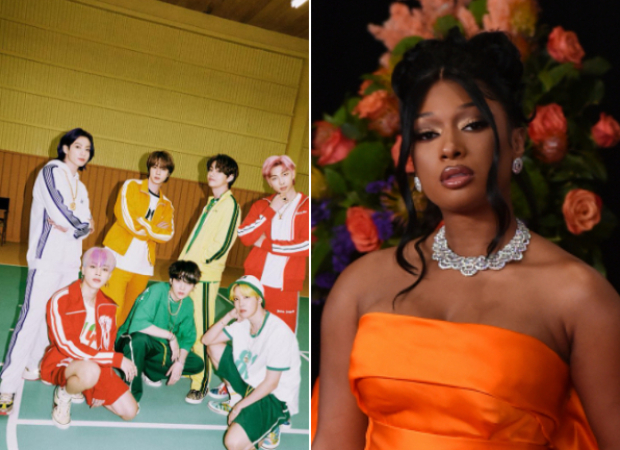 Before an official announcement was made, Megan Thee Stallion headed to court as her record label was not allowing her from releasing the remix.
As soon as the news was reported by TMZ, fans took to social media to express their support for the artist. ARMYs used the hashtags #LetMeganReleaseHerMusic and #RELEASETHEREMIX to raise awareness.
Fans have also taken to her label's, 1501 Certified Entertainment, Instagram account to urge them to release the remix.
According to a recent report from Variety, "Stallion — referred to in the documents as her birth name Megan Pete — is seeking 'emergency relief from the Court before this Friday, August 27, 2021, to allow her new music to be released this week as previously-scheduled."
"If Pete is not allowed to release a new track this Friday on which she is the featured artist in a remix with BTS of the song called, 'Butter,' her music career will suffer irreparable damage, including a devastating impact to her relationships with her fans and with other recording artists in the music industry," the document stated, according to a report in Variety. "Such irreparable injury to her personal goodwill and the silencing of her artistic expression in music cannot be compensated in the way of monetary damages. As such, Pete seeks emergency relief from this Court."
Later it was revealed that a judge has ruled in favor of Megan Thee Stallion and she is clear to release the remix of BTS' 'Butter' on which she is featured.
This is not the first time Megan Thee Stallion has had to work against her label to release new music. Back in 2020, Megan used the hashtags #FREETHEESTALLION and #FREEMEG following an attempt to renegotiate her contract and her label allegedly refusing to release her EP, Suga. ARMYs are flooding her original tweet with messages of support.