Happiest 26th Birthday to the beautiful Maria our Mamamoo's Hwasa who had broken Korean stereotypes and beauty standards and has become an inspiration for many other female artists. She had not only broken the conventional idea of "pretty" but also rocked it as the unapologetically beautiful woman she is with her fashion.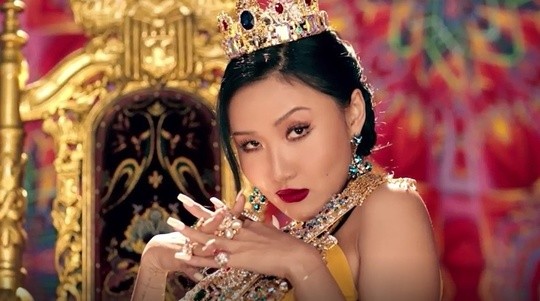 Here are times Mamamoo's Hwasa swooned us with her sexy fashionable outfits!!
Here cropped and cutout version of the Pinstripe suit paired with black heels is totally Maria's Style!!
2. Shining Hwasa with sparkling  Sequin Set is highly sexy!!
3. Hwasa's monochromatic red latex bodysuit paired with red knee-high boots makes her look fierce.
 4. This Tulle Grown-Dress of Hwasa paired with pumps is just epic!!
5. Hwasa's sexiness arises more with this denim jacket, off-shoulder dress, and pants topped with black cap and block heels boots are just awesome!!
6. This is Hwasa's revolutionary sexy look when she sports a basic black camisole tucked into some trousers !!
7. Maria is just looking luxurious with black velvet bodysuit paired with rhinestones fishnet stockings. Her long dangles and heels are also matching to the outfit perfectly!!
8. This matching set paired with red heels and yellow aviators are just giving out her cool and sexy vibes!!