Lifestyle
DIY Happiness Hacks From Bollywood Movies That We Should Definitely Try
Often in our lives, we are a little taken aback , feeling the blues and these emotions make us sad. At that point of time, we need an instant boost that will refresh our mood and help us overcome that sadness.
With our Bollywood movies, our task becomes a little easier. Wondering how? Well, you must check out some awesome instant Do-It-Yourself happiness hacks that we have handpicked for you to get that instant smile on your face.
1. Samundar Se Kabaddi – Dear Zindagi
Dr Jug beautifully explained how we can go and play around on the sea-shores. Touch the waves, tease them and come back to shore and find out whether the waves come after us or not. Well, this has no relevance to our scientific existence of life but emotionally it makes us happy.
2. Going on a Honeymoon alone – Queen
Why we need another being to be happy? Our presence is enough and the movie Queen helped Rani self discover herself and get over the biggest sadness in her life of her broken marriage. We all should go for a solo trip atleast once in our life.
3. Completing long due goals with friends on a much needed trip – Zindagi Na Milegi Dobara
We all make our plans with friends in college and schools and then throw those plans outta window once we all grow up and get busy in lives. Once in a while, we should go back to those days and revisit our plans and execute them. On a serious note, Zindagi Na Milegi Dobara so live every moment the way you want to.
4. An instant happiness dose  of Jaadu Ki Jhappi – Munnabhai M.B.B.S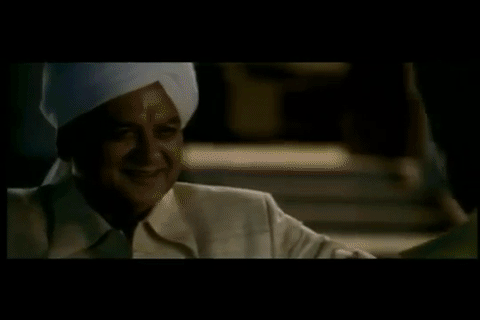 The famous Jaadu Ki Jhappi is a therapy. We give hugs to people and make them feel loved. Love can never fail to bring happiness in lives.
5. To get rid of anxiety, worries or tension, the chant of 'All is well' – 3 idiots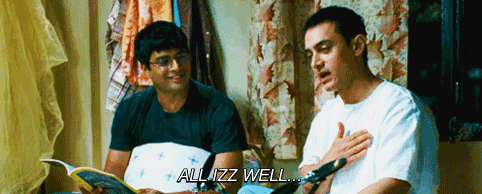 The mantra of life that can transform your dullest moments to the one of the best. Keep chanting 'all is well' and see how things fall into place.
6. To laugh out loud looking at the sky – Hasee Toh Phasee
She was a little crazy but her ways of life were simple. Meera taught us that we don't need reasons to be happy, being happy is a state and we can be happy whenever and wherever we are. Just sometimes look at the beauty of sky and the darkness of night and remember beautiful moments that make you smile.
7. Clean your home or Grocery shopping – Piku
Piku had so much stress in her life but she has her own therapy too. On the days away from work, she took up cleaning and grocery shopping that helped her ease her stress and be more happy.
We have listed our favorite ones, do you think we missed out anything more important? Share your happiness mantra with us in the comments below and let's smile and spread more smiles.
Let us know what do you think in the comments section below and do not forget to follow us on all our social media handles to stay updated with all the latest photos and videos.