Entertainment
TV Actress Hina Khan Refuses To Shoot With Vikas Gupta, Shilpa Shinde, Arshi Khan For Entertainment Ki Raat
The most controversial reality show Bigg Boss 11 had ended with Shilpa Shinde defeating Hina Khan, her colleague from the TV industry by a handsome margin. Shilpa Shinde has proven her real self-worth and earned a lot of respect and absolute unconditional love from her fandom #Shilpians, across the nation. No wonder that she has set trends across all social media platforms with her fan following.
Now, Shilpa Shinde's win might have been a big blow to the Sher Khan AKA Hina Khan. After all, she did try so hard to make it up to the finals, inclusive of all her controversial statements.  We entertain this thought or opinion not on a whim but because of her sudden avoidance to give one-on-one interviews.
Although Hina Khan was at first heard saying during her group media interactions after coming out of the house, that winning and losing doesn't matter to her as all are winners. But it clearly seems that Hina Khan is being quite a sore loser if we are to go by the reports.
According to reports, last evening, Bigg Boss 11 winner Shilpa Shinde, along with co-contestants like Vikas Gupta, Puneesh Sharma, and Arshi Khan shot for Colors' Entertainment Ki Raat. BUT Hina Khan refused to come for the show. Well, that's definitely very, very intriguing and suspicious.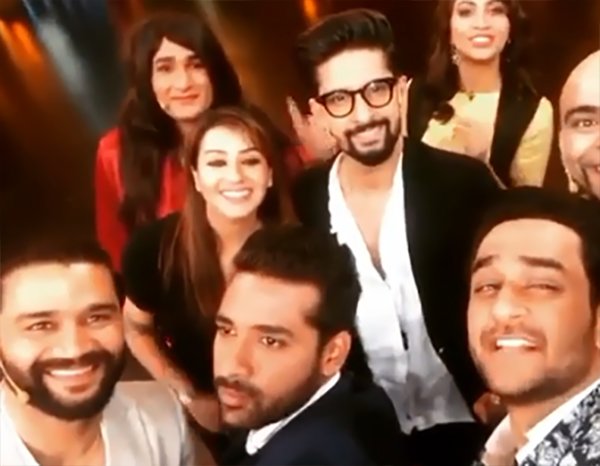 Well, a leading website reported through its sources that Hina Khan had avoided the shoot by saying she wanted to be at home but had no other concrete reason for her absence. The channel had wanted to shoot with the top 4 but since Hina turned down the offer, Arshi Khan was called in her place. Well, we hope she gets over this shock soon!
Meanwhile, here's a video of those who did make it to the shoot. Looks like this Bigg Boss reunion was quite fun and loaded with extra comedy ka tadka. We also congratulate Shilpa Shinde for her fabulous journey in Bigg Boss 11, and also for her deserving victory!