Entertainment
Bollywood Actresses Who Got Slut Shammed For Being Comfortable In Their Own Skin
Bollywood actresses have always been stereotyped and because of the excessive pressure of being the typical Bollywood heroine, they also follow the so called rules. Being a rebel do not come easy to them and if they do that or do something which defines their personality or traits, they are continuously  bashed for the same until they stop doing it.  The moral policing about wearing clothes and maintaining the Indian culture is so high that is is really disturbing. Many actresses, for instance, have been slut shammed if they were doing a very basic and simple thing, ie, being comfortable in their own skin. From Priyanka Chopra to Deepika Padukone, many actresses have been shammed on the Internet which makes us ponder that why aren't the basic liberties of day to day life even available to them? From wearing a bikini to doing a photo-shoot while they were pregnant, nothing goes down well with the typical society. Let's take a look at these incidences when an actress was slut shammed just because she was doing something which was comfortable for her :
Sonam Kapoor: Sonam Kapoor who is known for being vocal and upfront about the various trolls which target her has again been mercilessly trolled when a video featuring her where she is wearing a black strapless bikini went viral. The video was posted by her Veere Di Wedding  co-star Swara Bhaskar who was shooting a video of the actresses on the poolside after they reached Phuket for the foreign shoot-schedule of the film. The video also has Kareena Kapoor Khan's voice which is audible in the background. As soon as the video got posted, there were a lot many haters and trollers who commented shameful and derogatory statements in the comment section of the video. Calling her 'flat' and other indecent words, the trolls did not stop and it targeted the actress on her swimming costume. It is disgusting!
Swara captioned it as, "Gotta chill out with your #Veere At @amanpuri #Phuket with @sonamkapoor @rheakapoor @shikhatalsania #VeereJustWannaChill missing #kareenakapoorkhan #VeereInThailand also yeah. upside down video whatever".
Deepika Padukone : It was a super proud moment for DP when she was given the title of being the 'World's Hottest Women' for the year 2017 by renowned magazine Maxim. They did a sexy and sultry photo-shoot as well to grace her on the magazine's cover and as soon as the leggy lass shared a photo from the shoot on her Instagram handle, hate comments started flowing her which talked about moral policing and on how she is disrespecting the Indian culture. The comments just coming while there were a few Padukone supporters who supported her as well. Being the graceful woman Deepika is, she made sure she finds a way to shut the trolls and posted another picture from a different angle hence hinting that she is far ahead from all these trivial things.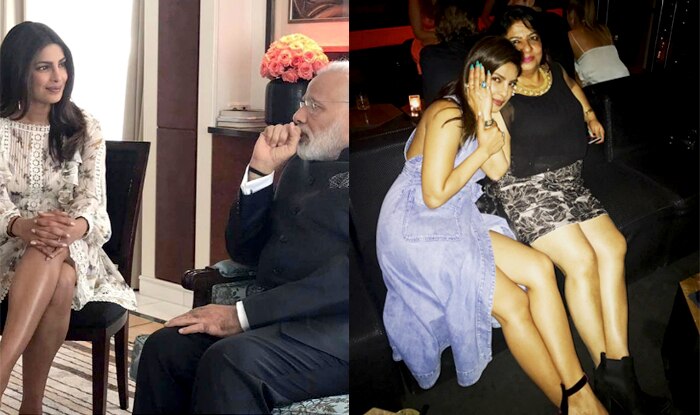 Priyanka Chopra : The one actress who is on a mission for global-domination and is making every Indian proud has also been targeted by creepy minds when she posted a picture of her meeting with Indian prime minister Narendra Modi. In the photo, she is seen having a talk with our PM where they are just sitting while PC is wearing a dress which revealed her legs. This led to many people slut shaming her of wearing a dress where her legs are visible which was downright stupid. The actress who is winning hearts all over the west doesn't need anyone to monitor or comment on what she wears or not! The actress with The Devil May Care Attitude gave a perfect comeback with a picture the following night where she is seen posing with her mother Madhu Chopra captioning it as "legs for days…. #itsthegenes with @madhuchopra nights out in #Berlin#beingbaywatch". Haha spammers.
Fatima Sana Shaikh : The lastest one to face these kinds of insults and slut-shamming trolls was Dangal fame Fatima Sana Shaikh. She posted her swimsuit pictures on Instagram which happened to create a huge ruckus on the web as it led people to start their moral policing on someone who wore a monokini during Ramadan. 
Lisa Haydon : The super confident and sassy actress, Lisa Haydon has always given us major goals on how to be a strong independent happy go lucky woman. She recently gave birth to a child becoming a mother and posted a beautiful message on the boons of breast feeding where she is seen breastfeeding her child. The post was beautiful and the message was incredible but this also led to sick people objectifying her and it was just plain sad as the objectification did not stop and slut shamming followed right after.
We feel sorry for all these strong women and we just want to say to them that you are all women of substances and the pricks present all over the Internet can do nothing against you and you all must not change!