Bollywood
As A Silent Observer I feel Shah Rukh Khan Is A Star Who Balances Humility And Stardom Perfectly
Shah Rukh Khan has not only been my favorite star but also someone whom I look up to. From watching him as the killer in Baazigar to the loverboy in Dilwale Dulhania Le Jayenge, he has so many shades that you end up loving them all. For me seeing him in person, right in front of my eyes means the world. For a Shah Rukh Khan fan, only one selfie or hug is never enough and I am pretty sure every SRK fan would agree with me on this.
I feel blessed that my work gave me that chance to see the man live. Here are few things that make me adore SRK for his absolute balance of humility and stardom.
Experience 1: Dil Se Naache Indiawaale Episode – When he chose the Non-VIP area access to make an entry over VIP area.
I was attending the grand launch episode of Dil Se Naache Indiawaale. I had the exclusive VIP passes which meant that my seats were right in front of the stage. Everyone speculated that Shah Rukh Khan will make entry from VIP access area and not from the common balcony area where all the non-VIP people were seated. As an excited fan, I was literally expecting to at least touch him. He took everyone by surprise when he made a grand aerial entry which took plight from the non-VIP area. He met all those people there, hugged them and took selfies. He was the only star to make an entry from there, other celebs chose other ways. #BeatThat
Much disappointed but absolutely proud, I learned that Shah Rukh Khan still knows where he belongs. Now tell me how can I not love him more?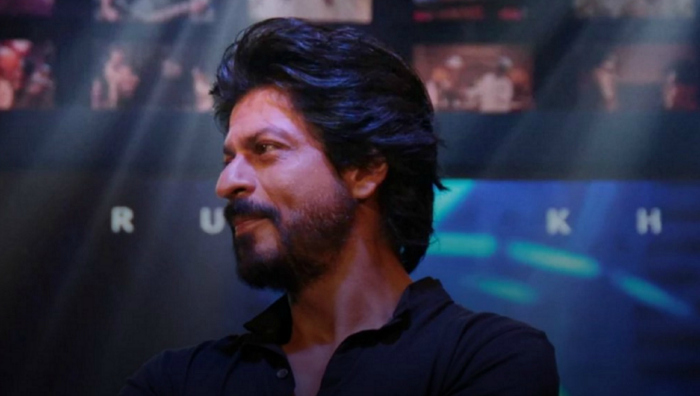 Experience 2: Fan Trailer Launch – Wiped his sweat with his own T-shirt, biting his nail in nervousness
This was my very first SRK event where I went to cover, to work and not adore him as a fan. Amidst so many fans behind, their echoes reverberate in the ears as they shout SRK, SRK! He walked in with his usual charm, dressed in casuals. The fan inside me overtook. While he was playing the trailer of FAN, like a small child, curious to know people's reaction, he looked a little nervous, biting his nails, wiping his sweat with his own t-shirt with a little peek a boo to his abs, I just couldn't help but adore the not so starry side of the star. He is so unfiltered. He never thought of the shutterbugs or masked his nervousness because he knew that trailer would take his fans by shock and it did.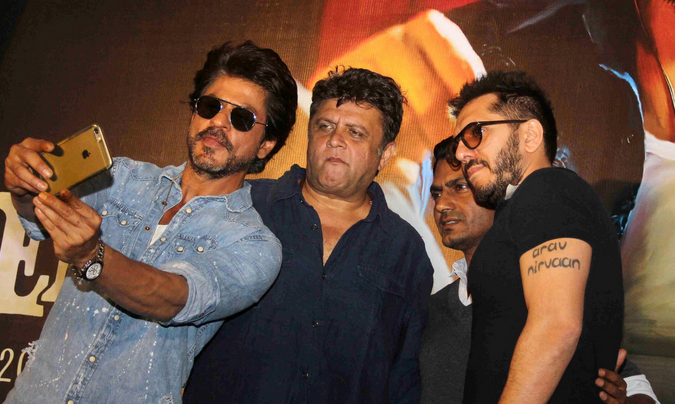 Experience 3: Raees Trailer Launch – Giving his co-stars more importance
Another day at work, just like a usual person seated curiously at the event I saw the trailer first and then Shah Rukh Khan walked in with team Raees. Absolutely a treat to eyes, I discovered that not just on screen SRK has romantic eyes in real. He speaks a lot through his eyes. Every SRK fan would know that his eyes are magic and this is even true in reality. What I really adored here was his graciousness, his respect for co-stars, his director. He knows he is the star but he assures that he doesn't eat into his co-star's limelight.
Experience 4: Karan Johar's Book Launch – A true friend , a true entertainer
This was by far the most memorable. Not just a good human but a good friend had come there to support his friend. Once the event was over, I saw SRK come to photographers. They keep saying 'Khan Saab, Khan Saab' and I just stood there to look at him. The way he looks down and then aims through his eyes at the lenses, his velvet coat, his glowing skin and his dimpled smile. Everything is so real. People say that he is arrogant but he surely knows that when he is doing something for his fans, even if it just meant posing for shutterbugs, he does with all 'Shiddat' and Love.
Experience 5: Ittefaq Press Conference – Wearing his smile even when cameras are not rolling.
My experience was actually not at the main event but when he left quietly from backside exit at Taj Lands End. I was luckily standing nearby and I saw him leave with his team. It was when he was talking to his team and walking, he knew there are no photographers, there are no fans there, that lane was empty, well guarded, yet what I loved was that he wore his charming smile. He still carried love in his eyes. That's what defines Shah Rukh Khan for me.
Well, even after seeing him so many times, from near and far, I still couldn't gather that one moment which I could call it mine. Every fan of Shah Rukh Khan would know what it is to love him, to see him, to witness him on screen or in person.
Wo sirf star nahi hai, duniya hai meri.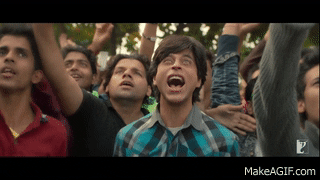 Happy Birthday to my favorite, my inspiration Shah Rukh Khan