Lifestyle
5 Most Happening Places To Bring In The New Year, Welcome 2017!
2017 is loading! And we are sure that you want to bring in New Year with a bang. As New Year is approaching you might be thinking where to celebrate your New Year's Eve. You will want to find the perfect place to share this special time with your loved ones. There are so many fantastic places in the world to visit for this celebration. Let's see some stunning places where you can bring in New Year.
1) Paris, France:
There is no better way to bring in the New Year than watching the romantic fireworks and amazing light show at Eiffel Tower Paris. No matter what your idea of a perfect New Year's Eve celebration, you'll find the streets of the City of Light truly comes alive with thousands of people celebrating with plenty of champagne and dancing the night away. In addition to the big show, smaller fireworks can be legally bought and sold in Paris, which means an abundance of color and sound all night long.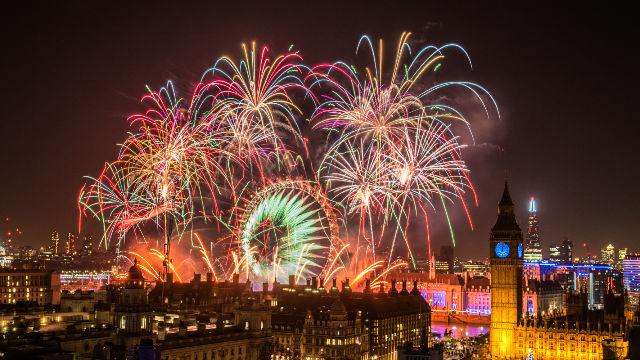 2) London, England:
London's big celebration includes an elaborate light show accompanied by the chimes of Big Ben with more than 250,000 visitors crowding along the banks of the River Thames, along with a host of parties and clubs to choose from. The city's three-hour extravaganza also features some 10,000 performers along with a massive group sing-along. The party continues throughout the night as well as activities on January 1 that includes a lengthy parade complete with marching bands, colourful floats, costumed dancers and a procession of the Queen's horses.
3) Sydney Australia:
Sydney is one of the first capital cities in the world to greet the New Year, so not surprisingly; you'll find plenty of ways to celebrate here. At Sydney Harbour, you can join boats filled with revellers to watch the fireworks extravaganza overhead at midnight. Or, book one of the many waterfront restaurants by the Sydney Harbour Bridge for a front row seat of the brilliant light display. You can also expect to see aerial flyovers, mini-light shows and a lighted boat parade. A massive dance party is held at Bondi Beach as well.
4) Pondicherry:
With its easy access beaches, Pondy is a place you can enjoy whether you're with friends or family or both. Laid back beaches, serene atmosphere and tempting food make Pondicherry best place to celebrate New Year in tranquil way. The delicious food aside, the presence of two distinctly varied cultures of French and Tamil lends the place a special charm on new year's eve that leaks onto the celebrations in a swirl of oneness. Also, drinks are damn cheap!
5) Manali:
The best place to enjoy New Year's regardless of if you're a fan of raving or whether you just want a chill time by the fireside. The snow and the good vibes are sure to make you ring in the New Year with a smile. Linger in Old Manali, sip on some special hot chocolate and feel the warmth seep through to your brain.
Are you getting excited for New Year's Eve bash? So pack your bag and head towards these wonderful destinations to bring in the New Year in a grand way